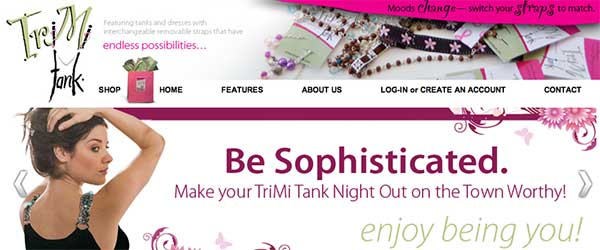 Trimi Tank is another clothing/accessories product to enter the Shark Tank seeking funding. The sharks may be in for a real fight: Trimi Tank is run by 2 Pittsburg hockey moms, Nikki Bilski and Lindsay Johnson. If these two gals are like the hockey moms I know, the sharks don't stand a chance!
Both mothers of three, the entrepreneurial team created their line of interchangeable tank top and  dress straps while commiserating in the wee hours of the morning while their kids played hockey. On their website, they sell tank tops, "strapless" dresses, and long sleeve shirts that can be accessorized with custom straps- also sold on their site. The straps are decorated with all sorts of decorations, from the whimsical to the sophisticated.
As a guy, this product has little appeal. As a father of four girls, I can see how girls would go for it. My seven-year old thinks Trimi Tanks are "cool." My fifteen year-old says she wouldn't be interested, but she probably would have loved them when she was younger. She also says it would be neat if she could make her own straps.
Just like any other clothing/accessory product, there will be those who find the product appealing and those who won't. It would be real easy to say this is something Daymond John might be interested in. I don't think he'll go for it unless he can have a significant interest- 65% or better- in the line. I don't think any other sharks would have any sort of interest in this product, with the possible exception of Lori Greiner. The Queen of QVC may be able to find a way to sell this stuff and, if she likes Nikki Bilski and Lindsay Johnson, the "girl power" could be a trump card. That may be the only hope for Trimi Tank in the Shark Tank.
I think, unless Trimi Tank has fantastic numbers, they walk away without a deal from the Sharks. This doesn't mean they won't be successful- we have seen many entrepreneurs parlay their appearance on the show into success.