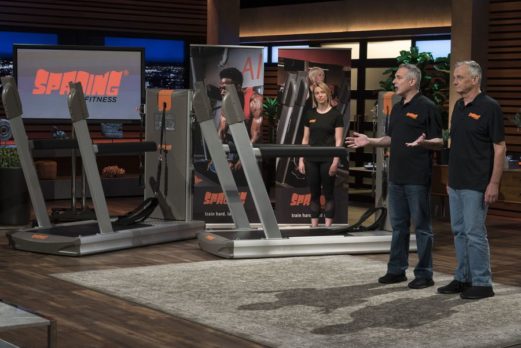 Paul Toback and Steve Lenz hope a Shark springs for Sproing Fitness, their fitness studio concept, in Shark Tank episode 1008. Basically, Sproing Fitness Studios take the ubiquitous treadmill (found in EVERY gym), and use "science" to make the experience easier on the back and knees while providing a high-intensity interval training experience.
Sproing Fitness Treadmills are softer on the feet and more forgiving than standard treadmills due to low impact air cushions beneath the treadmill surface. They also utilize a bungee-cord like attachment that lets the user lean forward while running on the treadmill, which actively simulates a natural running posture. On a traditional treadmill, users stand upright, which isn't a natural running posture. The Sproing system corrects that.
Toback and Lenz aren't selling treadmills, they're opening fitness studios featuring their equipment and training style. They feature high-intensity interval training based on their treadmill system. Sproing also incorporates free weights and other gym equipment to vary the workouts. Class participants burn up to 1000 calories in a typical 45 minute class.
Currently, there are five Sproing Fitness locations: two in Maryland, one in Chicago, one in Houston and one in Hollywood. They're actively soliciting new fitness center owners and probably want a Shark's help with expansion. Will a Shark spring for Sproing?
Company Information
Video

Posts about Sproing Fitness on Shark Tank Blog
Sproing Fitness Shark Tank Recap
Paul and Steve enter the Shark Tank seeking $500,000 for 8% of their business. They give their pitch and ask if the Sharks want to try it. Daymond and Robert try it out and Robert says "I really feel that." Cost is $6499 – the Sharks are put off by the price. They sold $1 million over two years; they're getting traction in studios and rehab centers. Their Chicago location did $400,000 in a year.
Mark thinks it will do good for a while, then people will look for the "next thing;" he goes out. Lori gets what they are trying to do, but she's consumer product driven; she's out. Daymond says there is a lot of education required; he's out. Robert doesn't want to be in the studio business; he's out. Kevin wants to take it behind the barn and shoot it; he's out.
Sproing Fitness Shark Tank Update
The Shark Tank Blog constantly provides updates and follow-ups about entrepreneurs who have appeared on the Shark Tank TV show. Not much has changed for Sproing. As of August, 2022, the company still has five studios and they've continued to make inroads in sales to other fitness facilities. Despite a flat year in 2020 due to Covid-19 related business closures, the company  has $12 million in annual revenue.