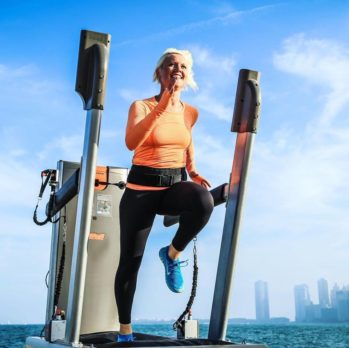 Paul Toback and Steve Lenz think their new fitness center concept – Sproing – is the next big thing in cardio fitness. They hope the Sharks think so too when they pitch Sproing in episode 1008. If you ever go to the gym, you see a LOT of treadmills. It's probably the most popular piece of fitness equipment in gyms. A lot of people use them, too – but they have a big downside. Treadmills don't put your body in the proper running position (slightly leaning forward) and the hard surface can cause knee and back problems.
Sproing solves this two ways. Their "treadmills" have a patented, air cushioned "belt" that's much more forgiving on your knees and back. They also utilize a bungee cord system that lets you lean forward as you run. The result is a more "comfortable" and efficient workout.
Toback and Lenz don't want to put their machines into every health club and gym on the planet – they have a different plan. They want to create a nationwide network of Sproing Fitness Centers. They actively seek investors on their website and tout the proprietary nature of their fitness system as the number one reason for partnering with them.
The Sproing method revolves around 45 minute high-intensity interval training on their treadmill system while incorporating some free weights and other exercises in the mix. Classes range in price from $30 for a single class down to $16 per class with the recurring 8 class per month package. There's also an unlimited monthly class package for $149 per month. With five current locations, they've proven the concept. Now all they need is a Shark to help them expand nationwide.
My Take on Sproing
I go to the gym 4-5 times a week. Usually, I spend a half hour on the recumbent bike and a half hour on a stair-stepper/ski machine hybrid. I mix in some weights once or twice a week, too. For years I've stayed away from the treadmills because I found they hurt my knees and back, so I totally get where Sproing is coming from. I'd like to try their equipment.
The problem I have is with their business model and the singularity of their concept. I like options at the gym. Our gym offers all kinds of classes like spinning, interval training, dance aerobics etc. If they offered Sproing classes at my gym, I'd be more apt to try it. I won't go join another gym for one workout. They'd have to convince me that I could get all the benefits my current gym offers. It's also exponentially more expensive than my gym which is $70 for a family membership. I think they need to think about selling their equipment to existing gyms. Either that or they have to do one hell of a sales and marketing campaign.
Will the Sharks Exercise an Option and Invest?
This is a tough sell for the reasons I listed above and for the investment potential gym owners need to make to help the business grow. Owning a gym is a tricky, sales intensive business and many small operators fail. That's why you see a proliferation of national chains in the gym business.
The Sharks will want to know sales figures and rate of growth to justify whatever valuation Toback and Lenz present. The product is unique and it does have appeal for runners. Whether that will be enough for the Sharks remains to be seen. I am predicting no deal on this one.