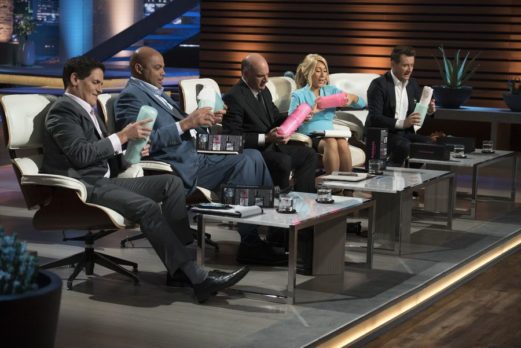 Charles Barkley returns as a guest Shark for Shark Tank episode 1009. Joining him on the panel are Mark, Kevin, Lori and Robert. They'll evaluate 4 new companies seeking an investment to help grow their businesses.
Saskla Sorrosa wants a Shark's help getting nationwide distribution for Fresh Bellies, fresh, savory baby foods that train kids to not be picky eaters. Adam and Desiree Haller pitch the SubSafe, their specialty storage container for submarine sandwiches. Levi Wilson and Tim Todd show the Sharks their Life Lift Systems beds that convert into tornado shelters and safe rooms. Taylor Wiegele and Sierra Smith introduce Zorpads, their successful shoe odor insert business that uses "NASA technology." Which business catches a Shark tonight?
There are two updates tonight. In season 9, Snarky Tea, a tea brand aimed at "snarky women" did a deal with Mr. Wonderful and Bethenny Frankel for $150,000 for 50% of the business. In the very same season 9 episode, Jennifer Paschall and Gita Vasseghi did a deal with Lori and Bethenny for $100,000 for 25% of No Mo-Stache, a portable waxing kit. Tonight we'll see how both these businesses are doing.
The Sharks
---
Charles Barkley
Robert Herjavec
There are 28 Shark Tank Episodes for Season 10. This season features more appearances by "guest Sharks," including billionaire Jamie Siminoff. The 200th episode also airs this season. Casting is currently closed, but it never hurts to get a head start on season ten! If you would like to appear on the show, check out our Auditions and Casting information.
Episode 1009 – The Shark Investors and Entrepreneurs
The Shark Tank Episode 1009 entrepreneurs will make their best pitch to the panel of five Shark investors who will use their own money if they choose to invest. The Shark Investors negotiate on the spot without any previous information, which differs from typical negotiations between venture capital investors and entrepreneurial start-ups.
Companies pitching the Shark Investors must go through a rigorous due diligence process before an on-air deal is completed. Shark Tank Blog follow ups help you keep track of the companies that end up successful and the ones that don't complete their deal.
Thank you for reading SharkTankBlog, the number one site for Entrepreneurs, Investors and Fans. Our content updates multiple times day, giving you the latest information on Episode 1009, Season 10, and all other seasons and episodes.
Episode 1009 Press Release
Shark Tank: Episode 1009 (1/27)
LEGENDARY NBA BASKETBALL STAR AND INVESTOR CHARLES BARKLEY JOINS THE TANK IN AN ALL-NEW EPISODE OF ABC'S 'SHARK TANK,' SUNDAY, JAN. 27
"Episode 1009" – First into the Tank are entrepreneurs from Oklahoma City, Oklahoma, who introduce their innovative storm shelter/safe house design that can provide people safety in the comfort of their own home. An entrepreneur from White Plains, New York, presents her fresh baby food that trains babies to acquire a more sophisticated palette. Entrepreneurs from Port Orange, Florida, pitch their multi-use sandwich container product that keeps your sandwich safe, never soggy. Last into the Tank are entrepreneurs from New York, New York, and Venice, California, who pitch their space age solution for stinky feet, on "Shark Tank," SUNDAY, JAN. 27 (10:01-11:00 p.m. EST), on The ABC Television Network, streaming and on demand.
In a Shark Tank update, Jenni-Lynn Williams from Nokomis, Florida, the founder of  Snarky Teas, a line of bold and sarcastically named teas, and Jennifer Paschall and Gita Vasseghi from Los Angeles, California, founders of No Mo-Stache, a portable hair removal kit designed for women, give their investor Bethenny Frankel an update on their business.
The Sharks in this episode are Mark Cuban, Kevin O'Leary, Lori Greiner, Robert Herjavec and Guest Shark Charles Barkley.