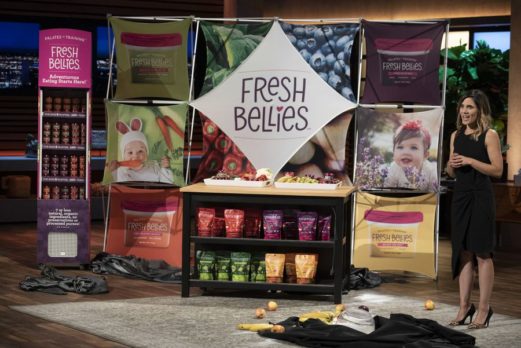 Saskla Sorrosa seeks an investment for Fresh Bellies, her line of savory baby foods, in Shark Tank episode 1009. The Ecuadorian transplant seeks to disrupt the baby food industry with baby foods that aren't loaded with sugar to mask flavors. Sorrosa believes bland, flavorless pureed baby foods create picky eaters which often leads to poor childhood nutrition. With one out of three American children obese, she – along with many nutritional experts – believes there is a correlation.
Fresh Bellies are a refrigerated baby food. Unlike mass market baby foods, Sorrossa doesn't blend fruits with her vegetables or use sugars to mask flavors. She thinks by introducing kids to unsweetened vegetables, we aren't training them to be picky. Her flavors include We Got the Beet, Cauliflower Dreamin, Broccoli Ever After and more. She has apples and pears too, but without any extras. Sorrosa seasons her foods with garlic, onions and herbs and spices to mimic foods kids will eat as they get older.
Sorrosa believes "picky eaters are made, not born." With that in mind, she cooked home-made, flavorful baby foods for her new-born daughter. In 2015, she sold the first Fresh Bellies baby foods at local farmers markets near her Westchester County, New York home. Before long, she had distribution in Connecticut, New York and New Jersey. Now she wants to go nationwide. Hopefully, a Shark will help her.
Fresh Bellies Company Information
Video

Posts about Fresh Bellies on Shark Tank Blog
Fresh Bellies Shark Tank Recap
Saskla enters seeking $275,000 for 5% of her business. She explains the reasoning behind her savory baby foods and explains that she has been in business for 6 months with about $100,000 in sales. She project a little over $500,000 in sales for the year. After handing out samples, the trouble starts.
The Sharks don't like the taste of the baby food. They also don't like that she raised $1.6 million on a $7 million valuation. When she says she wants to combat childhood obesity, Mark balks since obesity is disproportionate to low income communities which often don't have access to healthy options. Kevin doesn't like the refrigerated foods since refrigerator space in retail is prime real estate.
One by one, the Sharks drop out and Saskla leaves without a deal.
Fresh Bellies Shark Tank Update
The Shark Tank Blog constantly provides updates and follow-ups about entrepreneurs who have appeared on the Shark Tank TV show. Apparently, Saskla was able to get coveted refrigerator space in many national chains including Whole Foods, Harris Teeter, Fresh Thyme, Earth Fare and more. The products are also available on Amazon. While the Sharks didn't like the food – or the deal – enough people bought into the Fresh Belly story to make the company a big success.
In 2019, they introduced shelf stable snacks for toddlers and Groovies Puffs – sorghum based snack puffs. They plan to offer an "adult" version of Groovies with a little more seasoning. By January, 2020, she had her products in over 9000 stores including Kroger and Wal Mart. As of November, 2022, the company is still going with annual revenue of $6 million.