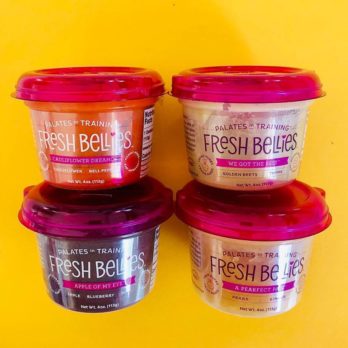 Fresh Belly baby foods' Saskla Sorrosa believes picky eaters are made, not born. What she means is we feed our babies overly fruity, sugar laden baby foods that don't "train" them to like the flavors of veggies early in life. This leads to picky eaters when they get older. When kids don't eat veggies and other healthy foods, it contributes to childhood obesity. One in three American children are obese, a national tragedy.
Eating healthy should start early and that's why Fresh Belly baby foods are killing it in the fresh baby food space. They're in Harris Teeter and Whole Foods stores. The Ecuadorian born Sorrossa grew up eating real veggies, flavored with the flavors adults love. She uses garlic, cilantro and a host of herbs and spices to flavor her baby foods. She does not mix fruits with vegetables to mask their flavors and she does not use sugar.
There are fruit flavors, but it's the fruit all by itself. Her "Apple of My Eye" food is apples, blueberries, coconut water and mint. Not your typical sugary applesauce. The "Broccoli Ever After" has broccoli, Swiss chard, yogurt, garlic and a dash of olive oil. They even sell dehydrated, charred red peppers! It sounds like something right out of a restaurant menu, not a baby food cup.
Everything is organic and savory. At $7.18 for a two pack, it's affordable and it's good to know you're starting your kids out with healthy eating habits. She started with distribution in New York, Connecticut and New Jersey, but she's growing. She hopes a Shark can put her in every state in the USA.
My Take on Fresh Belly Baby Food
As a father of five, I've fed my fair share of babies. We didn't go for the mass-produced stuff. In fact, we mashed up whatever we were having for dinner. If broccoli was a side, the baby got mashed broccoli. If it was carrots, they got mashed carrots. I didn't have any fussy eating children, though there were occasions when baby expressed some displeasure at their mushed up meal. When they were ready for meats, we mushed up whatever we were eating.
My mother always said, if we can eat it, so can the babies. We even had some adventurous eaters. One daughter absolutely loved red and green peppers. She ate them mushed as a baby and still slices them up for a snack as an adult. Another daughter loved mushed olives. As she grew, she'd put one on each finger and chow down. How many baby foods have olives in it? I think Sorrossa has a good concept – my mother would like her style. I'm in.
Will Sharks fill their Bellies?
The challenge with any food product, especially something prepared fresh like Fresh Belly, is logistics. You can't ship the stuff from New York to California, you need kitchens in both places (and others). That said, every Shark, except maybe for Barkley, has foods in their Shark Tank portfolios. It's going to come down to valuation and how much the Sharks believe in Sorrossa.
My dark horse pick is Mr. Wonderful. He understands the logistics involved and he likes strong female entrepreneurs. With Plated, he's overcome the problems with distribution. If the deal is right, he'll bid. The only other Shark I see going for this is Lori, and I think she's a long shot.