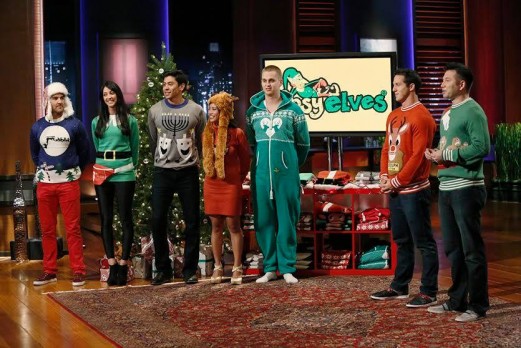 Tipsy Elves founders Evan Mendelsohn and Nicklaus Morton bring the iconic and ubiquitous Ugly Christmas sweater to the Shark Tank in episode 512 – the 2013 Shark Tank Holiday Special. The Tipsy Elves slogan is "not your momma's Christmas sweater," and they aren't kidding. They have an extensive line of ugly Christmas sweaters from straight-up tacky to downright inappropriate!  They also donate $2 from the sale of each sweater to Stand Up To Cancer, so they're keeping the "Christmas spirit" alive all year-round.
Tipsy Elves sells sweaters in over 200 countries and they boast UK and Canadian websites. All indications point to a very good business model: they claim to sell more ugly Christmas sweaters than anyone in the world and they are the "official sponsors" of National Ugly Christmas Sweater Day (December 20). In addition to sweaters, they sell ugly Christmas sweater dresses, pajamas, hats, and other accessories. They sell online at Amazon and from their website. Tipsy Elves is likely looking for Sharks to help them get on retail shelves.
Tipsy Elves Shark Tank Recap
Evan and Nick enter and ask for $100K for 5% of the business. A parade of sweater models come in wearing a variety of sweaters and the models hand out sweaters and hats to the Sharks. Mr. Wonderful says "this stuff is hideous." They reveal they had over $800K in sales in 2012 with half of those sales coming in from Amazon. Evan says he started the business due to his background in SEO based on search volume for Christmas sweaters, Nick left his job as a lawyer to help out. They sell online now, but they want to go into wholesale.
The Sharks aren't sure that's a good idea. Mr. Wonderful brings up their valuation and Mark says he doesn't have a problem with it, but Mark wants to know how they are going to grow. Mark is out. Lori doesn't think it's unique enough and goes out. Kevin offers $100K for a $2 royalty until he gets his money back and $1 per sweater in perpetuity. Robert likes the fact Nick left a $175 K per year job to do this business and offers $100K for 10%.
Daymond mulls the 2 offers on the table and a discussion ensues. He's in love with the product and the guys, but he still has reservations – he goes out. Mr. Wonderful summarizes the offers and Robert says he wants to invest in the guys. Robert thinks the product will explode, and Evan and Nick accept. Robert then asks Mr. Wonderful how many versions of a royalty deal he can come up with! In the hall, Evan says "our Christmas wish came true today."
Tipsy Elves Shark Tank Update
Since doing the deal with Robert, Tipsy Elves is approaching $6 million in sales. Mr. Herjavec calls it one of the best deals he's made on the show to date. Tipsy Elves gets an update segment in season 6, episode 612. Curiously, Robert does not appear in this episode. We'll find out more details about Tipsy Elves and their Shark Tank success once the update airs.
In the update, they reveal they are projecting $8 million in sales. They've expanded the product line to cover many different holidays. They've hired a bunch of employees, they're making a large donation to Toys for Tots. The Tipsy Elves guys say Shark Tank was the best thing that ever happened to them.
Tipsy Elves had the honor of being featured as the first business featured in Beyond the Tank. A full recap of Beyond the Tank Episode 1 is available HERE.
In season 7, episode 708 another update segment features Tipsy Elves. They reveal they've introduced a new, high quality sweater line. Sales have topped $20 million and they now have 20 employees. They're also producing sweaters that are featured in the Christmas comedy movie The Night Before.
Over the years, they added to their line. They now sell Hawaiian shirts, shorts, leggings, ski suits, Halloween costumes and much more. They are really a clothing brand now, not just a sweater company. As of August, 2022, they have over $120 million in lifetime sales and annual revenue of $6 million.
Posts about Tipsy Elves on Shark Tank Blog
Tipsy Elves vs. The Beard Head
Tipsy Elves Information
Get an Ugly Sweater in time for Christmas