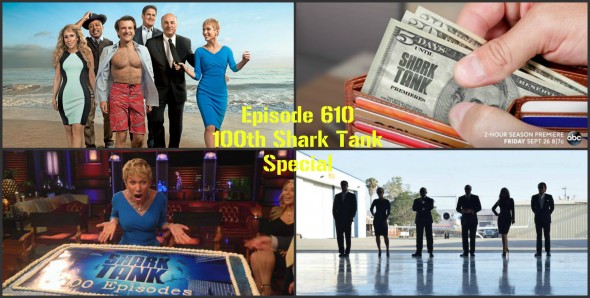 Episode 610, the 100th Shark Tank Episode, features all six Sharks. They'll cut a 100th episode anniversary cake and toast with champagne. The Sharks will also talk about their reasons for participating on the panel and some of the most memorable moments in the six seasons that brought them to the 100th episode.
There are also 4 new businesses appearing, hoping to be partners with one of the Sharks. Bobby and Judy Edwards, a mother and son entrepreneurial team, have a uniquely healthy way to use the bathroom with their Squatty Potty. Jeff and Jennifer Martin hope to close a deal for Pipsnacks, their organic mini popcorn snacks. John Smith shows how his plywood alternative, Storm Stoppers, protects homes from hurricanes. Chef Heidi Lovig wants the Sharks to invest in Heidi Ho, her line of vegetable based, vegan cheese products.
Which businesses have the right stuff to catch a Shark?
"Scotty Claus" Martin, who cut a deal with Mark Cuban for $150K for 40% in episode 409 in season 4 gets an update on the 100th Shark Tank. Martin closed his deal with Cuban and has grown the business. Shark Tank Blog interviewed Martin after the deal was made, but we'll see his more recent progress in episode 610.
Episode 610 – The Shark Investors and Entrepreneurs
As the Sharks look back, some of the Shark Tank Episode 610 entrepreneurs featured will be the more memorable pitches from the first 6 seasons of Shark Tank. 100 episodes means 400 businesses and entrepreneurs have appeared on the show to date. The Sharks have invested over $20 million in the first 5 plus seasons with over 180 deals made.
The show has become a TV and business phenomena. Each season, over 40,000 entrepreneurs try to get on the show to get exposure and an investment from one of the Sharks. Shark Tank's come a long way since Tiffany Krumins answered a Craigslist ad and got the very first deal in the pilot episode.
What we'll see in the 100th episode celebration remains to be seen, but there's sure to be updates on deals, Shark fights from the past, comical and serious moments, and a host of other surprises.
Shark Tank Blog will recap the episode on this page once it airs.
Thank you for reading SharkTankBlog, the number one site for Entrepreneurs, Investors and Fans. Our content updates multiple times day, giving you the latest information on Episode 610, Season 6, and all other seasons and episodes.