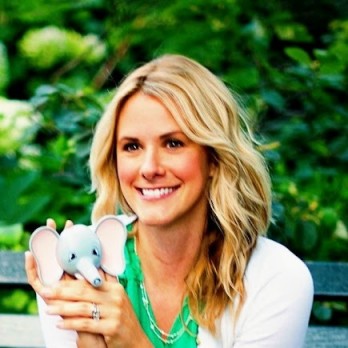 Tiffany Krumins didn't set out to invent a medicine dropper for kids, she just wanted to help kids. As a nanny to special needs kids and a frequent volunteer at a children's health care center in Atlanta, Tiffany constantly sought ways to make the kids in her care more comfortable. The idea for AVA the Elephant was hatched when Tiffany was working with a special needs child who had problems taking medicine. She "hid" the medicine dropper inside what would become AVA Elephant, and the kid took his medicine! I caught up with Tiffany recently to talk about her upcoming follow-up segment in episode 415. We talked about AVA, her new product, her progress, and, of course, Barbara Corcoran and Shark Tank.
Medicine Dropper Motivation
"AVA the Elephant was just an idea I had to help a child, I wasn't looking to start a business," says Tiffany. "The boy I was working with was having an awful time taking medicine, so I just made AVA at home to help him, I never thought it would be a business. One day I was looking on Craigslist for something else and I saw an ad that said 'Do you have the next big idea, but you don't have the funding to make it happen?' I sent in an email and heard back from them the same day." The Craigslist ad was for the pilot episode of Shark Tank.
Things are different on Shark Tank today; over 40,000 people applied to be on the show for season 4, I bet they don't use Craigslist any more either! Another thing that is different is not many "ideas" get funded. Tiffany had some initial patent work done for AVA as a decorative medicine dropper when she pitched the Sharks, but she didn't have anything in production. "I think it's because it's TV," she explains, "I think they want to show the progression of a business and taking something from an idea to a business takes too long. It's too bad, because I love new ideas. When I taped, they were just starting too. We were the pilot episode and they hadn't sold the show to ABC yet. We didn't even know if we were going to air. My show didn't air for almost 8 months after we filmed."
Tiffany and AVA the Elephant Follow-Up
As one of the first businesses funded on Shark Tank, Tiffany had a lot of time to develop her medicine dropper product. She recently filmed a follow-up segment at a "special place" from her past. Since Tiffany loves kids so much, you can bet children will be involved!
The road to Shark Tank success was rocky for Tiffany. "I gave birth to my daughter, appeared on Shark Tank, then three months later I was diagnosed with cancer. When I was being treated, they put these adhesive thermometers on my forehead, and I thought they'd be good for kids. I found a Canadian company familiar with working with them and designed a colorful, kid friendly version. It fits well with AVA and I've branded it that way, plus it's medical related."
I'm happy to say, Tiffany's cancer is in full remission and she's doing very well. She's also incorporated the new, kid friendly, thermometer stickers into her product line. Kids, particularly kids with serious medical issues, prefer the fun stickers to another thermometer or probe. Tiffany explains,  "when I go visit a hospital and see the kids faces – to see them smile makes the whole thing worthwhile."
She isn't stopping at just making kids feel comfortable either. Tiffany's truly committed to making children's lives better, no matter where they live or what their circumstances are. She's started a vaccine program for kids in need. For every AVA the Elephant Gift Basket purchased, she'll fund a vaccine for a needy child; Tiffany is an entrepreneur with a heart! She's working on a few other medically related things she feels could be bigger than AVA, too. With all these medically related products, you'd think Tiffany was a Doctor, but she has no medical background, just a passion for helping kids. "The world thinks I'm a coddler because of the products I make. I'm not like that with my daughter, but with sick children…" her voice trails off, revealing her true dedication.
Working with Barbara Corcoran
"Barbara has been great to work with. We learned the business together and now AVA is in over 10,000 stores. I know there are kids out there playing with AVA in the bathtub and using it as a toy, but it's still meant to be used as a medicine dropper."
One of AVA the Elephant's features is a recorded voice that encourages and congratulates the child while using the medicine dropper. Tiffany's uses her voice for the English-speaking AVA. "That really speaks to Barbara's genius," she explains, "she said 'you won me over with that voice, we're not spending a dime on recording!' I went to a friend's radio station studio and did a professional recording; we had an MP3 ready to go in a few minutes. I don't do the foreign language voices, that's all they need is me speaking Spanish with a Southern accent! For the Mexican version we had two or three women make a tape and we just picked the best one."
"Barbara and I Skype once a week for a scheduled meeting. It's really an ideal situation. Since I was her first entrepreneur, we learned the business together. There's a real camaraderie with Barbara's people."
Made in the USA
Tiffany is proud to say Ava the Elephant is made in the USA! She initially manufactured in China, but moved to the USA once the business got rolling. "It's hard to manufacture in the USA," she explains, "finding a factory is nearly impossible. Big companies have most of the production, they don't want to deal with start-ups. Luckily, I was able to find a manufacturer in Chicago. I really wanted AVA to be made in the USA."
Tiffany has had major success and is the first true Shark Tank success story, but she's considering what many entrepreneurs must face at some point in their business cycle: an exit strategy. "I work out of my house and out of an office at my logistics company. I'd like to hire an assistant because my days are so crazy.  I'm also talking to a few big companies. I'm figuring out what I want to do, but I want to make sure I maintain the integrity of the brand."
Advice for Entrepreneurs
"Most people think being on Shark Tank is hard. Being on the show was the easy part compared to building a business. If you're an entrepreneur, you better stick to what you're passionate about. There were many times I wanted to give up, and then I thought of the kids; it kept me going. If you don't stick with what you're passionate about, it will kill you."
Tiffany had one other question to field. Her answer is over at the Hot Dog Truck.