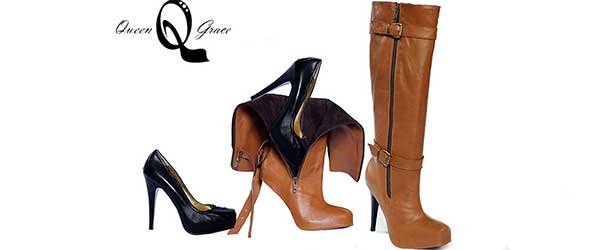 Queenie Davis was a HUGE hit with Shark Tank fans after appearing in Shark Tank episode 313 with her partner, Andrew Goodrum. The pair struck a deal with Barbara Corcoran, but the deal never materialized.  Since the episode aired, Shark Tank Blog was inundated with inquires about Queenie Davis and Boot Illusions. I caught up with Queenie the other day to get the real story.
Queenie Davis and Barbara Corcoran
My instincts were correct. I didn't think the deal with Barbara went down and I was right. "We weren't quite as far along in the business as Barbara had hoped," she explains, "we never moved forward, but Barbara did call a few weeks ago to check in."
Even though the deal didn't go through, Queenie Davis and Andrew Goodrum went forward with the business. A lot was made about Queenie Davis having a dream of going to Turkey on the broadcast. It was more than a dream. "We had an arrangement with a manufacturer in Turkey. They were very nice to deal with, but they suffered a downturn and we had to stop working with them." This occurred around the time her episode was airing. Queenie Davis also had a few health related setbacks. That, coupled with ceasing the manufacturing arrangement in Turkey,  slowed up the Boot Illusions roll-out.
A New Plan and New Setbacks
Queenie Davis isn't the type to give up easily. She and Andrew set out to find another manufacturer. They settled on a 4th generation shoe maker in Brazil. "They are very nice to deal with. The switch from the Turkish company to them was more of a hiccup, we were still selling product. We were supposed to be ready for the Christmas season. We were shipping our fabrics to Brazil and Brazilian customs wouldn't let it in the country. We had worldwide orders and we had to return all the money. The logistics killed us; it's been quite a battle."
"Since then, our manufacturer made some concessions. They're paying to import the fabric now." Queenie says the issues with the Brazilian government are cleared up as well.
"We've been working on distributorships too. We have two currently, one in Sweden and one in the Nederlands. Once we have inventory, we'll be featured in about a half a dozen online catalogs. We should begin production within a month and be shipping product in March." Queenie will be selling Boot Illusions from her NEW WEBSITE too.
Queenie Davis Parting Thoughts
"You WILL hear from us in 2013. Like I said, it's been a battle, it's always something. It's exciting to keep going though. Tomorrow brings another opportunity!"