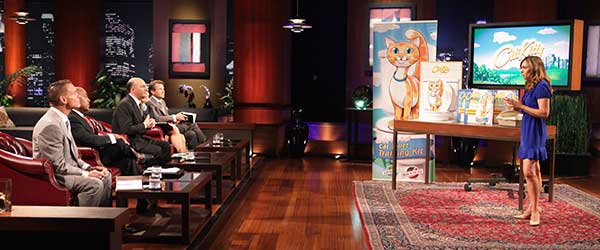 Rebecca Rescate got a nice deal for her wildly successful CitiKitty in the Shark Tank season 2 finale. She partnered with Kevin Harrington who made a $100K investment for 20% of the business. Rebecca Rescate sold many CitiKitty products prior to Shark Tank. She was on many TV shows and her cat even had a cameo doing his business in the movie Little Fockers. Nothing, however,  prepared her for "the Shark Tank effect;" sales went through the roof after her initial appearance! I caught up with Rebecca recently to talk about her past success and about her newest venture: The Hoodie Pillow, which gets pitched in episode 415.
Rebecca Rescate is one of the biggest Shark Tank Success Stories
Rebecca Rescate was amazed at her results the first time she swam with the Sharks. "I was expecting a couple hundred orders after we aired; in the four hours following the original airing, we did 1,800 orders. There were over 9,000 orders by the end of the week. My husband and I were blown away! CitiKitty had its biggest month ever last month. We've continued to sell due to the movie, press mentions, and repeats. We have over a million views on Youtube of a cat pooping on the toilet!"
Rebecca Rescate hasn't rested on her laurels either. "I've always enjoyed branding and marketing for my whole life. I instantly evaluate products. I want to do this again and again, not just to launch products for the sake of launching. I want to find the 'hit it out of the ball park' products." This love for sales and marketing led Rebecca to develop RebeccaRescate.com, a website where she offers consulting services to small businesses, inventors, and entrepreneurs.
"I kept getting approached more and more, so I started a consulting business. I help start-ups cut through all the things that cross them up to get started. I have processes in place. I really love helping with the branding, it's hard to pull back when you launch a product. As an entrepreneur, you don't always sell your product with fresh eyes. You have to pretend you're a consumer and never saw it before. When you have people actively looking for help, they usually have something."
Rebecca Rescate is the first entrepreneur to return to Shark Tank with a new product
The Hoodie Pillow is one of the first new products in the Rebecca Rescate stable. "Chris (Hindley) works with my husband. He approached him and asked if we'd partner with him on the Hoodie Pillow. I initially said 'no, but we'll help you through everything.' After a while, he came back and said he really wanted us as partners, so we invested in the Hoodie Pillow. It was easy getting Hoodie Pillow 'plugged in' to CitiKitty. We used my warehouses for shipping and just duplicated the processes that worked for CitiKitty for the Hoodie Pillow."
"My husband uses it. He has it pulled up over his eyes when he sleeps. People already do this with pillows and blankets; they're looking for solution . I put pillows over my face sometimes and there are lots of  people who wear something on their eyes to block out light. Night shift workers who sleep during the day do the same thing. My sister-in-law brought a Hoodie Pillow to chemotherapy and the other patients said 'I want one too!' Kids who want to feel cocooned love it. There are many segments of the market that Hoodie Pillow appeals to and – it's fun! It appeals to a broad market, it's moderately priced, and it solves a problem." Rebecca Rescate sounds just like Kevin Harrington!
Rebecca Rescate and the Hoodie Pillow in the Shark Tank
"The company just started last June (2012) and it resonated. We had it all over the press and saw a huge initial boost in sales. When I reached out to Shark Tank, I didn't think we'd get picked. We were chosen to tape during the last series of tapings. Once we were picked, I didn't think we'd air."
"It was harder going back, partially because I was filming with someone else. I felt like I didn't have my rhythm, I was used to responding solo. I went in with idea about what would happen, but it  didn't happen the same way as with CitiKitty; it threw me off. I had no idea what would happen – nothing's a given. I thought they'd be impressed, but it didn't work out that way. With CitiKitty it was awkward – I felt like Sharks were doing stand up comedy when we taped. They kept making silly remarks about cats pooping on the toilet. When the segment aired, it was portrayed as rhythmic negotiation. I forgot how it really happened because my memory became what I saw on TV."
"We'll be much more prepared with Hoodie Pillow for post show sales than I was with CitiKitty. I'm really honored to be back as the first entrepreneur with a new product. It's funny how Tiffany (AVA the Elephant) and I are on the same show, she's launching a new product on her update too. I think I ultimately got to come back on the show because it's all about positioning. It expresses how Shark Tank can help small businesses – Shark Tank invested in me and I invested in someone else."
Rebecca wouldn't tell me the outcome, but she did say she's "very pleased with the way things worked out with the Hoodie Pillow."
What's Next for Rebecca Rescate?
Rebecca is committed to the Hoodie Pillow for now, but she has other plans to grow her consulting business." I love selling new and innovative products with mass appeal.  I deal with a lot of Shark Tank entrepreneurs regularly. It's been great to meet all the entrepreneurs, all doing different things; I've learned so much. It's an honor to be looked up to, it's so cool to be a reference for other entrepreneurs."
"I'd really love to be approached by other inventors and I think that may be an after effect of this show. I enjoy the whole process of developing products. I like to work backwards: figure out the goal first, then figure WHY you are doing this? Yo need to make sure what you're doing and how you do it gets you closer to goal. Break it down into small steps and attack it."
Rebecca Rescate says her most important advice for aspiring entrepreneurs is: "Success doesn't happen overnight. It took me ten years."
I had one more important question for Rebecca Rescate. She answers it at The Hot Dog Truck.