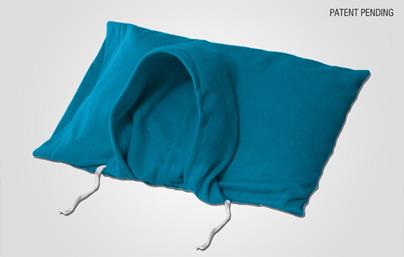 A hooded sweatshirt pillowcase business finds its way into the Shark Tank in episode 415. The invention is called the Hoodie Pillow and it's the product of  husband and wife team Chris and Dana Hindley. The Hindleys are new parents, to TRIPLETS and Chris, a light sleeper, invented the  hooded sweatshirt pillowcase, called the Hoodie Pillow, to get in a state of what the couple calls "Cocoonification." Hiding from the cacophony of a houseful of triplets was their inspiration and last spring, the couple started selling their product online.
Shark Tank Success Story Guest Star Pitch-woman
They have an interesting angle to pitch the Sharks. Not only do they have a product, they have one of the biggest  Shark Tank Success Stories pitching in the Shark Tank with them: Rebecca Rescate. Shark Tank fans may recall Rescate from season 2 when she made a deal with Kevin Harrington for her cat toilet training product, CitiKitty. Since her appearance, Rebecca's made millions with CitiKitty. Rebecca partnered with the Hindley's, after Chris, who works with Rebecca's husband, asked if she'd like to invest. Rebecca has a business consulting business and is becoming a bit of a shark herself!  Having Rebecca in their corner is a tremendous asset for the Hindleys while pitching their hooded sweatshirt pillowcase.
What the Heck is a Hooded Sweatshirt Pillowcase?
Basically, the Hoodie Pillow is a sweatshirt material, standard size pillowcase, complete with an over sized hood, an iPod pocket, and cable channels for running ear buds into the hood. The concept is simple: provide the comfort and support with the extra warmth and "privacy" of a hooded sweatshirt. You can pull the hood over your eyes and block out light while muffling background noise at the same time. Chris Hindley describes it as a kind of "adult security blanket."
The Hoodie Pillow has a lot of press and praise for the product. Gizmodo calls the hooded sweatshirt pillowcase "Snuggie-esque." The Hoodie Pillow has that "As seen on TV" feel to it and does harken to the classic Snuggy, but it's a bit less campy (though not by much). It's a product I would not go out and buy for myself, but I'd welcome it as a gift. In the winter, I sometimes sleep with a hooded sweatshirt on cold nights. A hooded sweatshirt pillowcase would be a nice alternative to that.
Will the Sharks "Cocoonify" with a Hooded Sweatshirt Pillowcase?
The Sharks will obviously want to know all the standard questions about sales volume, patents (Hoodie Pillow has a patent pending), and business valuation. It's too bad Lori isn't on the panel this week; it would be interesting to get the Queen of QVC's take on a blatantly made for TV product.
The made for TV angle will make or break Hoodie Pillow. The Sharks might see the sales upside of such a product. Having Rebecca Rescate in their corner will certainly lend credibility to that aspect; she was wildly successful with CitiKitty in a similar space. Kevin Harrington used to say he'd invest in products if they "had mass appeal and solved a problem." A hooded sweatshirt pillowcase has mass appeal for sure; EVERYONE uses a pillowcase. The real question is does the Hoodie Pillow solve enough of a problem. If Rebecca comes out strongly in favor of the Hoodie Pillow, the Sharks may have enough respect for her opinion and past success to make an offer.
I interviewed Rebecca Rescate, and she said she was "pleased with the outcome," but wouldn't say if they got a deal or not. I like the Hoodie Pillow, I'm "IN!"