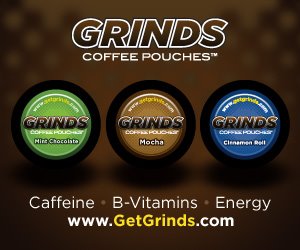 Coffee Pouches as a substitute for chewing tobacco? This sounds like one of the strangest "food" items to hit the Shark Tank in quite some time. Billed as an energy supplement and chewing tobacco alternative by entrepreneurs Matt Canepa and Pat Pazet, Grinds Coffee Pouches are catching on with major and minor league ball players all over the country. Matt and Pat embarked on a mission back in 2009 when, rather than brew a cup of coffee to stay awake while studying, they decided to suck on some grinds instead! They got the boost they wanted and the seed of an unusual business idea formed. Since then, they've been delivering samples to baseball players and receiving accolades for their coffee pouches.
Coffee Pouches concept
A few years ago, Major League Baseball outlawed speed, which many ball players used to stay alert during the grueling baseball season. Many ball players turned to highly caffeinated energy drinks to fill the void. Major League Baseball doesn't condone the use of chewing tobacco either and the health risks associated with its use are well-known. Grinds Coffee Pouches kills two birds with one stone: players get an energy boost while satisfying the need to chew ( a baseball tradition).
Grinds Coffee Pouches come in Mocha, Mint Chocolate and Cinnamon Roll flavors. Matt and Pat claim sucking on a coffee pouch is like "brewing a cup of coffee in your mouth." You can swallow the juice, unlike chewing tobacco, to get a quick jolt of energy or spit it out to simulate the chewing tobacco experience. The entrepreneurs claim their coffee pouches can help you quit tobacco since the oral urge is satisfied while the caffeine can help curb nicotine cravings. Each coffee pouch has as much caffeine as a quarter of a cup of coffee; there's also other stuff, like Taurine, Guarana, and B Vitamins.
Some people might think sucking on coffee grinds is disgusting, but I'd be willing to try it. After all, I just LOVE Tiramasu!
Do the Sharks Chew on Coffee Pouches?
Of course the Sharks will want to go by the numbers. If there are solid sales and growth, the Grinds Coffee Pouches guys might get an offer. My concern for them is the Sharks won't be able to get past the narrow niche they've placed themselves in. The Sharks might also find the concept of coffee grinds between the cheek and gums a bit disgusting. I can't picture Barbara Corcoran with a wad of coffee pouches in her mouth; I bet she makes some kind of funny face during this pitch.
The bigger problem is the niche. As former ball players themselves, Matt and Pat chased the market they know, possibly to the detriment of the broader market. I think this will be the Sharks' biggest objection, barring some ridiculously awesome  financials. Unless Grinds Coffee Pouches has out of this world numbers, I don't think they'll get a deal. I am keeping an open mind, but I think the Sharks will be "OUT."