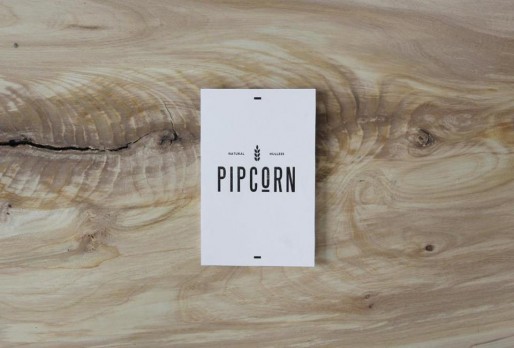 Brother and sister "snacktrepreneurs" Jeff and Jennifer Martin hope to have the Sharks munching on PipSnacks, their line of "heirloom" popcorn, in episode 610. Jeff and Jen make PipCorn, PipSnacks' signature snack, from heirloom corn with a very small kernel. Their PipSnacks corn is grown in the Midwest and when it's popped, the hull practically disappears. The result is popcorn that pops to half the size of regular popcorn. The nearly non-existent hulls mean less stuff caught in your teeth when munching on PipCorn. It's naturally gluten-free and they don't use butter.
They "discovered" the business in 2010 when Jeff was helping Jen move and the only snack they had was unpopped heirloom corn kernels. They made their popcorn and loved it so much, they decided to package and sell it under the PipSnacks brand. There are 5 flavors: sea salt, rosemary, slightly sweet kettle, tangy crabby, and white truffle. Pipcorn costs $4.99 for a four-ounce bag.
The stuff must be very tasty – PipSnacks were on the list of Oprah's Favorite Things in 2012 and 2013. The Oprah effect is even more powerful than the Shark Tank Effect, so they got a lot of brand awareness and sales.
PipSnacks currently sell in a handful of markets in the Northeast and online. They're likely looking for a Shark to help them with broader distribution. Will the Sharks pop in and make a deal?
PipSnacks Shark Tank Recap
Jeff and Jennifer open with an "at home segment" where they tell the story of how they started their business. They say they're having trouble making ends meet. When they enter the Tank, they ask for $200K for 10% of Pipsnacks. Jen talks about how she originally found the Pipcorn kernels. They hand out samples to the Sharks while explaining the flavors. The Sharks LOVE it!
Kevin asks if he can buy the same kernels, Jen and Jeff explain they are near to cutting a deal for exclusivity for popping corn.
They sold $200K worth last year. Their margins are low, but they're doing all the manufacturing themselves. The margins get better if they get a co-packer. Robert wants to know what makes it better, and they tell him it's easier to digest. Kevin wants to know how he gets his money back, and he harps on how it's not a proprietary product. He says they aren't worth $2 million. They try to justify it, but Kevin goes out.
Robert offers $200K for 20%, they counter with $200K for 10%. Barbara thinks they are over-reaching, but she thinks they're winners and offers what they are asking. She says she'll do it, but she wants a draw whenever Jeff and Jen take money out. Robert thinks they'll kill it and he offers $200K for 10% with no conditions. Then they go to a dramatic commercial break!
After the break, they ask Barbara if she'll match Robert's offer. They think for a minute, then take Barbara's deal! They took the deal because Barbara has a good success rate with food.
RESULT: DEAL with Barbara: $200K for 10% plus a 10% draw whenever Jeff and Jen take cash out until she recoups her investment.
PipSnacks Shark Tank Update
Pipsnacks got an update segment in episode 621 – just a few months after their original appearance. Since doing the deal with Barbara, their sales went from $200K to $1.1 million. After their segment aired, they had 12,000 orders or, as Jeff said, "about 11,000 more than we ever had." Because of the volume of orders, they had back-order issues.
Instead of a negative, Jeff, Jen, and Barbara turned it into a positive. They offered discounts to people who waited the longest and free shipping on their next orders. Now, Pipcorn has co-packers on the east and west coasts and in the mid-west. The fulfillment issues are a thing of the past. Pipcorn now sells nationwide.
In a season seven update in episode 701, Barbara appeared at the New York Food Show with Pipcorn. She worked the booth with Jeff and Jennifer, attracting buyers. Jeff says Barbara is a great partner and has helped lead the business to over $1.4 million in sales.
The business, which is growing rapidly, was featured in Beyond the Tank episode 204. Read about their progress HERE.
In 2019, Factory LLC invested $ 6 million in the business for an undisclosed equity stake. In February, 2020, the company announced their new Heirloom Snack Cracker line made from upcycled corn flour. They also moved into Kroger, adding to their list of stores that include Whole Foods Market, Sprouts Farmers Market, The Fresh Market, Central Market, Winn Dixie, Target, Sam's Club, Amazon and more.
The company gets another update segment in episode 1208 where they talk about how they weathered the Covid-19 pandemic. They were able to pivot to digital  sales during the pandemic and are still very successful in 2021. As of August, 2022, annual revenue is $5 million. 2021 sales were $12 million.
Posts About PipSnacks on Shark Tank Blog
PipSnacks Information
Video