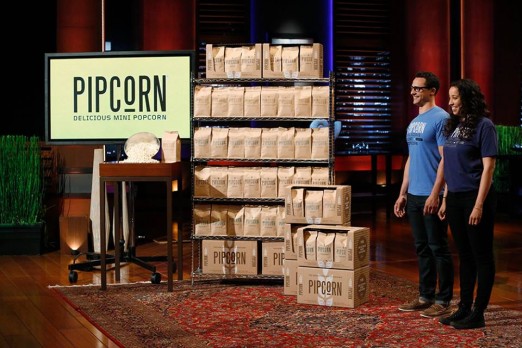 Jeff and Jen Martin are a brother and sister team that likes snacking on their Pipcorn, popcorn made from heirloom corn kernels. They'll pitch their Pipsnacks line, which features Pipcorn, in episode 610.
Pipcorn was a product, and a snack, born from an empty pantry. Back in 2010, Jeff was helping Jen move and the only thing she had to eat was a small bag of heirloom corn kernels. They popped them and chowed down. What they found was the kernel hulls virtually disappear when they're popped, which makes for less popcorn kernels stuck between the teeth and gums. They also thought it was totally yummy!
They started making their Pipcorn in small batches and seasoning each batch by hand.  Their five flavors (sea salt, rosemary, slightly sweet kettle, tangy crabby, and white truffle) have all the buzz words a new, hip snack should have: "All Natural, Gluten Free, Non-GMO, Vegan, and Whole Grain."
Their "big break" came in 2012 when Oprah anointed Pipcorn as one of her "favorite things." Oprah must like the stuff, because it was on the list again in 2013! Pipcorn isn't widely available in stores yet – it's only in a few supermarkets and specialty stores in the northeast – but they sell a lot of product online, both on Amazon and their website.
My Take on Pipcorn Popcorn
I eat popcorn all the time, it's a staple snack in our home. We used to have an air popper, then we went with microwave popcorn. Now, we go "old school" and pop popcorn in a pot with a little oil; it just tastes better that way! We'll have a bowl of popcorn while watching just about anything on TV (including Shark Tank), and we often bring a fresh bag along to the various kids sporting events we regularly attend.
Pipcorn comes in a bag, already popped. I usually don't get my popcorn that way because it's loaded with salt and preservatives and God knows what else. Pipcorn is all natural though and it's head and shoulders above most packaged popcorn when it comes to nutritional information. The big problem I have with Pipcorn is the price. At $18 for 3 4 ounce bags, it's pricier than a Porterhouse Steak on a per pound basis! That is one expensive snack!
I would try Pipcorn out of curiosity, but I don't think I'd pay that kind of dough for a small snack. I would be very interested in getting my hands on some of their heirloom corn kernels to pop at home, but that's not the business the Martins are in. Heirloom corn that is used to make Pipcorn runs about $4 for a 1 pound bag online, so it's more than twice the price of regular popcorn kernels. I guess going heirloom and organic has its costs.
Despite the cost, I think Pipcorn can and will find plenty of customers for their snacks. The power of Oprah and Shark Tank combined creates enough of a curiosity factor that people will want to try it. The real question is can the Martins sustain sales beyond the initial wave of activity.
Will Sharks Pop with an Investment?
The Sharks will likely have the same concerns about the pricing, but if sales and margins are good, those objections will disappear. The bigger obstacle the Martins face is the reality of the snack food business and how distribution and shelf space are handled in the industry. Competition for a limited amount of shelf space is intense and very cut throat.
There are many successful snack foods that catch on with the public, but is Pipcorn one of them? In Kevin O'Leary's gag reel, the Sharks dump Pipcorn all over each other, but they're also shown saying it's yummy. Just because they like it, doesn't mean it's invest-able. I think the Sharks will have a lot of concerns. I can't see Robert, Kevin, or Mark investing in Pipcorn. Lori probably isn't interested either.
Barbara or Daymond may have an interest, and even though my gut tells me they don't get a deal, they did re-vamp their website a week before their air date. A few seasons ago, that was a sure sign of a deal, but now nearly every business that appears does that. The Shark Tank is a proven sales generator for businesses that appear, so NOT being prepared for show night is blowing a huge sales opportunity. I think Pipcorn leaves the Tank empty-handed.