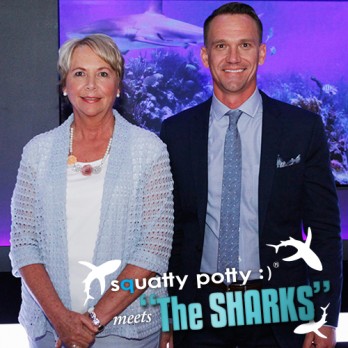 Shark Tank has seen its share of crappy business ideas, but Squatty Potty – a toilet stool that puts you in the proper pooping posture – might be the crappiest! Mother and son entrepreneurs Judy and Bobby Edwards think their product is crappy too, but in a very healthy way! They'll pitch Squatty Potty to the Sharks in episode 610, the 100th Shark Tank special.
Simply put, the Edwards' "crappy" idea is a toilet stool that puts you in an ergonomically correct position for optimum pooping. Research shows the human body is designed to poop while in a squatting position, allowing for more efficient elimination of waste. Modern toilets put people in a sitting position, which can cause straining. Straining while pooping can lead to hemaroids and colon problems.
Bobby researched solutions to this problem and found expensive alternatives, so he designed a simple, contoured toilet stool that you put you feet up on while pooping. With your feet elevated, your body goes into the natural, squatting position. For some, it takes a week or more to adjust to this "new" position, but once acclimated to the squatting position, things will begin to flow more smoothly!
The new-fangled toilet stool isn't just a silly gimmick: Squatty Potty is in all Bed Bath & Beyond stores in the USA and Canada and they sold over 10,000 units in 2012. At $25 apiece, that's a sh*tload of cash! The Squatty Potty comes in white plastic or bamboo (the bamboo model is $75) and the company sells padded toilet seats, sprays, lotions, even a clip on bidet. The toilet stool (a pun the Edwards' play on frequently in social media) is the main product, however.
My Take on the Squatty Potty Toilet Stool
The most important thing to know about the Squatty Potty is it's not "just" a toilet stool. The contour and design make it "fit" just about any toilet without interfering with the regular use of the bathroom.
As for the health claims, they seem reasonable and logical to me, but I had to try it for myself. I got a toilet stool out from the days the kids needed one to reach the sink. I placed it in position and went about my business. It felt awkward at first, but things moved along quickly once I got going. The only problem I had was the toilet stool was a bit narrow and it was out in front of the toilet. The Squatty Potty's contoured design puts your feet more to the side than a standard toilet stool – I'll bet it's more comfortable.
I am not sure if I'd rush out to buy this, but I think it would be a good addition to our home. Most folks poop 3-4 times a day, so being in the proper position would definitely benefit just about everyone. The number of sales Squatty Potty already has is a good testimonial to the utility of this product.
Do Sharks Get of the Pot and Invest?
The nature of this product probably means there will be some off-color, potty humor during this segment. In Kevin O'Leary's gag reel, Barbara does her best Sharon Stone impersonation on the Squatty Potty, much to the chagrin of Mark Cuban. Whether the rest of the pitch is just as raunchy remains to be seen, but be prepared for some poop humor.
As for the product, you wouldn't think a simple toilet stool is something to build a business around, but EVERYONE has to go, which makes it universal. That could appeal to the Sharks, but the sales numbers and the penetration into every Bed Bath and Beyond store will demonstrate there's more "shinola" to the Squatty Potty than meets the eye.
I have to believe the Edwards' need a Shark to get them to the next level. They've grown very fast from idea to big sales – this often causes cash flow and logistical problems. An infusion of cash and Shark expertise could be what this growing business needs.
One thing is for sure, all the Sharks poop, so they'll understand the ubiquity of the product. Which Shark is best suited to partner with Squatty Potty? I'd say it's Lori. She likes moderately priced products that have mass appeal, and this simple toilet seat fits the bill. I'm betting she makes a play for Squatty Potty, though any Shark could throw their hat in the ring on this one.
Whatever happens, no Shark or Shark Tank viewer will ever look at pooping the same after this pitch!