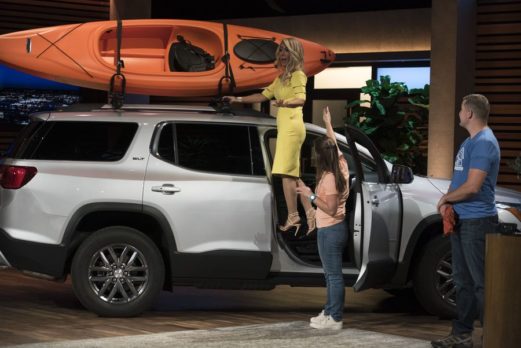 Alyssa and Zachary Brown want a Shark to step up and invest in Moki Doorstep, their patented "step" that lets you get to the roof of your car easier, in episode 1008. Zach named the product after "Moki step," footholds carved into rock surfaces by the cliff-dwelling Pueblo people of the American Southwest. Basically, it's a foothold that hooks onto the internal metal door latch of your car.
The Moki Step fits any vehicle and allows users to get about three feet off the ground to access the car roof or roof rack. For people who tote thing on their car roof (skis, kayaks, bikes), it's a must-have accessory. Zach and Alyssa both love outdoor recreation, so their product was born out of need: they couldn't safely and comfortably reach their roof.
Zach's a firefighter and he's concerned with safety, which is what led him to the design. Zach got his start with a successful Kickstarter campaign that raised $110,736 back in late 2017. Since Zach wanted to focus on his career and family, he partnered with a company called Rightline Gear to gain national distribution. That company sells rooftop tents, roof racks and car carriers, so it was a perfect fit. You can find the product on Amazon.
Zach likely wants a Shark to help him manage that relationship, but will a Shark want another partner?
Moki Doorstep Company Information
Video

Posts about Moki Doorstep on Shark Tank Blog
Moki Doorstep Shark Tank Recap
Alyssa and Zachary enter the Shark Tank seeking $150,000 for 5% of their business. They tell their story and demonstrate their product. They invite Lori onstage to show how easy it is to use before handing out samples. Robert seems impressed, but Kevin thought the $44.95 price was too high and he'd get knocked off. They have applied for a patent and owe Zach's uncle a $1 royalty per unit since he paid for the patent work. Each unit costs $10.50 to make and sells for $44.95. Zach claims he has a licensing deal that guarantees $3 million over 7 years plus a 12.5% royalty.
Daymond shocks the panel when he jumps in and offers $450,000 for 20%. Zach and Alyssa don't want to give up that much of the company and Zach says it would make more sense to sell the company outright. Mark asks what would he sell it for and Zach says $3 million. Daymond says he'll buy it for $3 million and they do the deal.
Moki Doorstep Shark Tank Update
The Shark Tank Blog constantly provides updates and follow-ups about entrepreneurs who have appeared on the Shark Tank TV show. The deal with Daymond never closed. They had the licensing deal in place after they taped but before the show aired and they executed it.  Rightline Gear, a brand of car carriers and truck tents, licensed the product. Zach is still the owner of Moki Doorstep. He spent a lot of time defending his patent and claims to have been successful at removing over 9,000 "infringing listings" of knock off products. He now helps other businesses with patent infringement issues.  In November, 2021, MacNeill Pride Group, a publicly traded company that makes camping, sporting goods and other outdoor gear, acquired Rightline Gear for an undisclosed amount. As of August, 2023, Moki's annual sales are $500,000-$1 million.