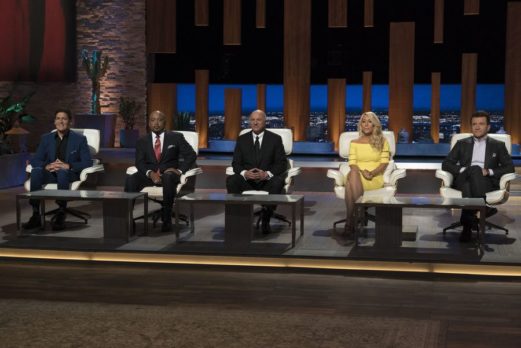 The Shark Tank returns in 2019 with episode 1008, the first new show of the new year. Four new entrepreneurs seek an investment from one of the wealthy panelists to grow their businesses. It's a Kickstarter special with three of four businesses touting successful Kickstarter campaigns.
Tammy Rant raised over $124,000 for TushBaby, her ergonomically correct baby carrier that's pediatrician and chiropractor approved. High school student and self professed coffee snob Max Feber pitches Bruw, his Kickstarter product that easily filters cold-brewed coffee. Paul Toback and Steve Lenz want a Shark to spring for Sproing Fitness, their high intensity workout studios that feature air cushioned treadmills. Successful Kickstarters Alyssa and Zachary Brown want a Shark to step up and invest in Moki Doorstep, their patented step that lets you get up on the roof of your car.
Which business gets a deal tonight?
Back in season five, Mark and Lori invested $500,000 in return for 15% equity in Cycloramic, a unique, hands-free panoramic smart phone photo app. Entrepreneur Bruno Francois created a panoramic selfie app after appearing on the show and both apps are available today. We'll chart his five-year journey with the two Sharks in tonight's update segment.
The Sharks
---
Robert Herjavec
Daymond John
Entrepreneurs
---
There are 28 
Shark Tank Episodes
for
Season 10
. This season features more appearances by "guest Sharks," including billionaire Jamie Siminoff. The 200th episode also airs this season. Casting is currently closed, but it never hurts to get a head start on season ten! If you would like to appear on the show, check out our 
Auditions and Casting information
.
Episode 1008 – The Shark Investors and Entrepreneurs
The Shark Tank Episode 1008 entrepreneurs will make their best pitch to the panel of five Shark investors who will use their own money if they choose to invest. The Shark Investors negotiate on the spot without any previous information, which differs from typical negotiations between venture capital investors and entrepreneurial start-ups. Companies pitching the 
Shark Investors
 must go through a rigorous due diligence process before an on-air deal is completed. Shark Tank Blog follow ups help you keep track of the companies that end up successful and the ones that don't complete their deal. Thank you for reading 
SharkTankBlog
, the number one site for Entrepreneurs, Investors and Fans. Our content updates multiple times day, giving you the latest information on Episode 1008, 
Season 10
, and all other seasons and episodes.
Episode 1008 Press Release
Shark Tank: Episode 1008 (1/6)
IN AN IMPRESSIVE DEAL, MILLIONS ARE OFFERED IN THE 'TANK' WHEN ABC'S 'SHARK TANK' RETURNS WITH AN ALL-NEW EPISODE, SUNDAY, JAN. 6 "Episode 1008" – First into the Tank is a husband and wife team from Newtown, Connecticut, who pitch their simple and brilliant rooftop assistance design that helps access your vehicle's roof with one easy step; entrepreneurs from Chicago, Illinois, present their fitness workout that offers a softer, lower impact alternative to the treadmill; a teen entrepreneur from West Bloomfield, Michigan, introduces his solution for making the perfect coffee at home with his cold brew kit; a mom from Walnut Creek, California, presents her simple baby seat that sits right on your hip and makes it easier to carry your baby, on "Shark Tank," SUNDAY, JAN. 6 (9:00-10:01 p.m. EST), on The ABC Television Network, streaming and on demand. In a "Shark Tank" update, Bruno Francois, from Atlanta, Georgia, updates his investors, Lori Greiner and Mark Cuban, on Cycloramic, an iPhone app that uses the phone's built-in hardware to spin the device hands-free, while taking 360 degree panoramic photos. The Sharks in this episode are Mark Cuban, Kevin O'Leary, Lori Greiner, Daymond John and Robert Herjavec.