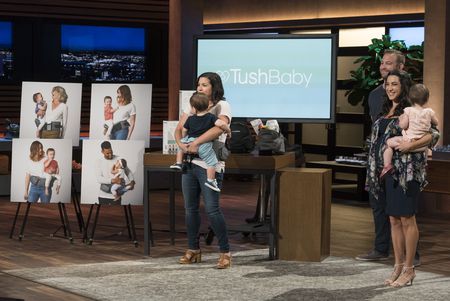 Tammy Rant, a "momtrepreneur" of two kids and founder of Tushbaby, hopes the Sharks will help her carry her business to the next level in episode 1008. The TushBaby is an ergonomically correct baby carrier with plush coverings that distributes baby's weight onto the hips instead of the back. There's also a padded seat for baby. Chiropractors and pediatricians love Tush Baby because both parent and child get support in the proper place and position.
Rant, a career software sales person, got the business off the ground with a successful Kickstarter campaign that raised $124,212 in the spring of 2018. The motivation for the product came from her second daughter. She wanted to be held a lot and Tammy got tired of putting her in and out of backpack style carriers. The old style carriers were uncomfortable, too. When she designed on for herself back in 2017, other moms came up to her and asked about it. That's when she decided to get going on the Kickstarter campaign. She also raised another $127,498 on IndieGoGo.
The TushBaby is a memory foam, padded seat that straps around the hips. This distributes the weight evenly for parents while keeping baby in the upright, "M" position. There are pockets for storing diapers and wipes, cell phones, keys and anything else parents need to tote around. They work for kids up to 44 pounds and come in either grey or black. A Tush Baby will set you back $79.
Rant has good people working with her, but she probably wants a Shark's help getting her product into mass production and out into retail. Will a Shark like this innovative baby carrier enough to invest?
TushBaby Company Information
Video

Posts about TushBaby on Shark Tank Blog
TushBaby Shark Tank Recap
Tammy enters the Shark Tank with her husband and daughter, who happens to be in the TushBaby. She's seeking $200,000 for ten percent equity. She gives her pitch as her husband demonstrates putting it on. She gives her pitch and explains how everything works. Robert comes onstage and tries one on and he holds Ben, another onstage kid. Dad takes the kids out and she gives the rest of the Sharks some samples.
Each one costs $21.81 landed and retails for $79.00. She sold 2500 units and she just launched 5 weeks ago; the Sharks like that. Mark is worrying about dropping babies. Of the 2500 sold, they only delivered 25. She raised $75,000 for 5% to cover the pre-order inventory and it's already sold out before it will be delivered. She's having inventory issues. She is in sales in LinkedIn and will go full time in two months.
Daymond thinks she works harder than he does and he offers $200,000 for 10% – just what she asked for. He gets a little miffed when she doesn't accept, then Kevin offers $200,000 for 15%. By this point, Mark and Robert are out and Tammy is pitching Lori hard. Daymond and Kevin ultimately pull their offers as it's clear Tammy wants a deal with Lori. Lori offers $200,000 for 20% and Tammy accepts.
TushBaby Tank Update
The Shark Tank Blog constantly provides updates and follow-ups about entrepreneurs who have appeared on the Shark Tank TV show. The deal with Lori never closed. Since airing, the company has begun donating Tush Babies to the LENN Foundation to help support children with cerebral palsy. Apparently, she taped her segment just after her Kickstarter and IndieGoGo campaigns funded (June, 2018), so money became a non issue. They didn't air her segment until the following year. There have been many knock-offs of this product and Tammy has had to defend her IP multiple times.
They introduced new products, too. The company now sells changing mats, pacifier protectors, tote bags and "manny packs." As of August, 2022, the company is still in business and does $4 million in annual revenue.