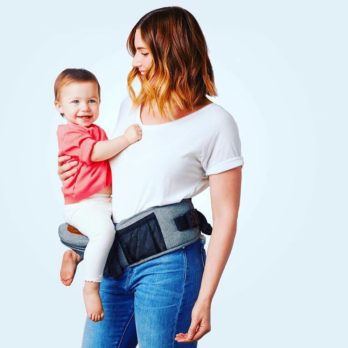 Tammy Rant got tired of her back hurting from carrying her two kids, that's why she invented Tush Baby. The software sales executive wanted a baby carrier that didn't hurt her back but also kept baby comfortable. Doctors love the product because it distributes baby's weight on mom's hips while keeping baby in the ergonomic, upright "M" position.
Rant literally made the first TushBaby for herself. Whenever she used it, people would ask where she got it. That woke Tammy's entrepreneurial spirit. She put the product out on Kickstarter and got funded to the tune of $124,212. The first production run shipped to backers in early 2018. Now the $80 product is a big seller on Amazon.
The belt and baby seat have memory foam in them so both mom and baby have maximum comfort. There are also pockets for wipes, a cell phone and other essentials. It's a far cry from backpack style baby carriers. Since the company is so new, Rant probably needs a Shark's help with inventory and production to get her costs down. Will a Shark want some tush, baby?
My Take on Tush Baby
I am so far removed from needing products like this. My youngest is 14, my oldest will likely be giving us grandchildren soon! It looks like it's well made and convenient and comfortable for both baby and mom (or dad). Had Tush Baby been a thing, we probably would have got one. Lord knows we bought a whole assortment of strollers, baby carriers and other items. I wish I had all the money we spent on that stuff, I'd probably be driving a Jaguar!
My guess is parents will embrace this product for both its comfort and health benefits. It's not overpriced and just about every parent has some sort of baby carrier. Why not have one that's easy on your back and comfortable for the kid? I'm in.
Will Sharks Push to Bid on this Tush?
Baby products are a crap shoot in the Shark Tank. Many get pitched and many get bids, but just as many don't. TushBaby has a real shot. The ergonomics and response to the product ought to entice at least one bid. It will come down to valuation.
Robert will be an obvious target since he has two little ones. He balked at the Lug Bug earlier this season because he couldn't see himself using it. If he can see himself using Tush Baby, he may bid. Mark has bid on baby products in the past, as has Lori. Daymond and Kevin tend to shy away from them. I look for bids from Mark, Robert and Lori.