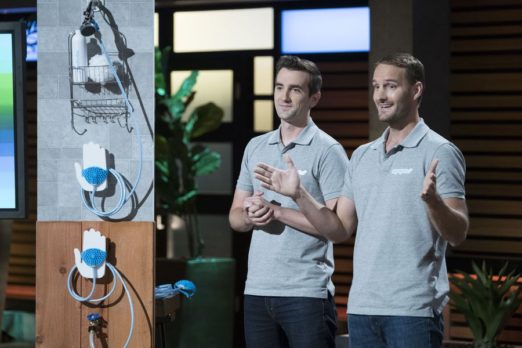 Daniel Lentz, creator of Aqua Paw, loves his dogs. He's had dogs his whole life and, while he enjoys their company, he knows caring for them is quite a chore sometimes. This is never more evident than at bath time.  Bathing a dog is a frenetic, messy and sometimes stressful activity – for dog and human alike. Anything that makes bathing your dog easier has to be a good thing, right?
That's exactly why Lentz came up with Aqua Paw. It's a grooming brush that also dispenses water from a hose, bathtub spigot or shower head (attachments are included). This frees up a hand during the dog's bath – a handy thing indeed.
Lentz came up with the idea for Aqua Paw while he was a student at Virginia Tech. After he graduated, the idea went on the back burner as he pursued a career as an industrial designer with two bike makers. In the fall of 2016, he dusted off the idea, partnered with Zipprian and raised a little over $42,000 on KickStarter to get the business off the ground. In the spring of 2018, Aqua Paw was awarded "best in show" at the Global Pet Expo. Now, it's readily available on Amazon and major pet retail websites.
It seems the business is doing well, even though its relatively young. Perhaps they need a Shark to help with the inevitable "growing pains" or with capital for inventory.
My Take on Aqua Paw
i too love my dogs and I too sometimes dread bath time. After losing our family dog of nearly 16 years in June of 2017, we took a while to heal. In September of 2018, we adopted Zoey, a two-year-old American Bulldog. She's a wonderful, loving dog. She's also 70 pounds of pure mayhem. Trips to the dog park or beach require bathing afterwards as she tends to roll in everything and get quite messy.
Even though we have an outdoor shower that's great for cleaning her up, Zoey doesn't always want to fully cooperate. I have to hold the shower hose and try to make sure she doesn't crawl under the wooden shower barrier. I usually need a shower after hers! While an extra pair of hands won"t likely eliminate my need for a shower after Zoey"s, it will make the process a bit quicker and a lot less stressful for me. I like this product, I am in.
Do Sharks Bite on this Dog Accessory?
Pet products are a tough sell in the Shark Tank. While pet products are a big business, they often get the "it's a product, not a business," objection. The pet industry is very crowded, too – but it can be lucrative.
Mark is not likely to bid, for the "it's a product" reason. Lori doesn't do pets much, so I don't expect her to bid either. Daymond, an investor in pet products in the past, has said they're too much work. Unless he's completely blown away by the valuation, he'll stay on the sidelines too.
Bethany is a wild card. She doesn't have enough history to warrant an educated guess. The only way I see her getting involved is in a deal with another Shark. That leaves Robert. He's a pet lover. I could see him throwing a bid in for Aqua Paw. Perhaps Bethany joins him.