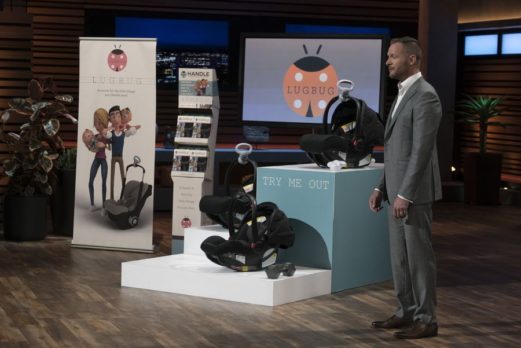 Nathan Day wants the Sharks to get a handle on Lug Bug, his ergonomically correct baby car seat handle in episode 1003.  When Day was toting his infant daughter, the father of three accidentally dislocated his shoulder when the seat hit the back of his leg. The impact, coupled with his wrist and arm in an unnatural position, sent him to seek medical attention –  and a solution to the problem.
The problem with many baby car seats is the handle forces parents to carry the seat with palms and wrist forward or backwards. A more ergonomically correct position is with the wrist and palms facing the side, like is you carried a briefcase. An NC State Department of Industrial & Systems Engineering study found "a handle that promoted a neutral wrist posture 'would increase grip stability and decrease lifting effort.'" While some car seat manufacturers make ergonomically correct handles for their seats, many more do not. That's where Lug Bug comes in.
Basically, the product is a handle that clips on to the car seat handle and pivots to let you carry the seat in the proper hand position. It is designed to fit any car seat on the market, if by chance it doesn't fit your, there's a 100% money back guarantee. Lug Bug holds up to 100 pounds, so it will handle any baby.
As of a week prior to the air date, Lug Bug is sold out on the company website and Amazon.  Nathan may have problems with production and/or inventory. A Shark can help him with both problems. Will a Shark help Mr. Day get a handle on this potentially profitable product?
Lug Bug Company Information
Video

Posts about Lug Bug on Shark Tank Blog
LugBug Ergonomic Baby Seat Handle
Lug Bug Shark Tank Recap
Nathan enters seeking $300,000 for 10% of his business. With him is Robert's wife carrying their twins in baby carriers with Lug Bugs attached. She says they're more comfortable to carry. Nathan then gives his pitch and hands out samples. Lifetime sales are $238,000 with $198,000 of those coming last year (2017). Each unit costs $5.92 landed and sells for $39.99. Nathan invested $750,000 in patents and tooling.
Robert shows Nathan and the Sharks how he carries the baby carrier. The method was recommended by his pediatrician. Saying he won't invest in a product he wouldn't buy, he goes out. The rest of the Sharks, upon hearing Robert, go out as well.
Lug Bug Shark Tank Update
The Shark Tank Blog constantly provides updates and follow-ups about entrepreneurs who have appeared on the Shark Tank TV show. While this company is still officially in business, it's not doing any business. Facebook hasn't been updated since June, 2017. The company website indicates the handles are sold out. Nathan's LinkedIn page says he's still the CEO of the business, but he's also listed as the CEO of Cypress Development Group, a high end residential development company. As of June, 2021, we can say this business is "on hold." In September, 2022, this status is unchanged. As of August, 2023, Nathan still lists the business as "open," but the website is down. It's safe to say, this business is closed.