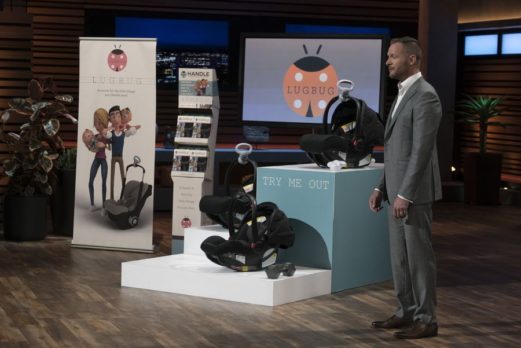 Nathan Day wants the Sharks to get a handle on Lug Bug, his ergonomically correct baby car seat handle in episode 1003. When Day was toting his infant daughter, the father of three accidentally dislocated his shoulder when the seat hit the back of his leg. The impact, coupled with his wrist and arm in an unnatural position, sent him to seek medical attention – and a solution to the problem.
The problem with many baby car seats is the handle forces parents to carry the seat with palms and wrist forward or backwards. A more ergonomically correct position is with the wrist and palms facing the side, like is you carried a briefcase. An NC State Department of Industrial & Systems Engineering study found "a handle that promoted a neutral wrist posture 'would increase grip stability and decrease lifting effort.'" While some car seat manufacturers make ergonomically correct handles for their seats, many mor do not. That's where Lug Bug comes in.
Basically, the product is a handle that clips on to the car seat handle and pivots to let you carry the seat in the proper hand position. It is designed to fit any car seat on the market, if by chance it doesn't fit your, there's a 100% money back guarantee. Lug Bug holds up to 100 pounds, so it will handle any baby.
As of a week prior to the air date, Lug Bug is sold out on the company website and Amazon. Nathan may have problems with production and/or inventory. A Shark can help him with both problems. Will a Shark help Mr. Day get a handle on this potentially profitable product?
Lug Bug Company Information
Video

Posts about Lug Bug on Shark Tank Blog
LugBug Ergonomic Baby Seat Handle
Lug Bug Shark Tank Recap
Nathan will pitch the panel of five Sharks on the business and its prospects for growth. He'll need to convince Mark Cuban, Kevin O'Leary, Lori Greiner, Robert Herjavec and Barbara Corcoran that the company is worthy of a Shark investment. A good business plan, good financials, and sales data will impress the Sharks, but he'll need to show them HE is capable of running the company to "Shark standards." A full pitch re-cap on Lug Bug will be available on Shark Tank Blog once this episode airs.
Lug Bug Shark Tank Update
The Shark Tank Blog constantly provides updates and follow-ups about entrepreneurs who have appeared on the Shark Tank TV show. Once an episode has aired, we monitor the progress of the businesses featured, whether they receive funding or not and report on their progress. The Shark Tank Blog will follow-up on Lug Bug & Nathan Day as more details become available.