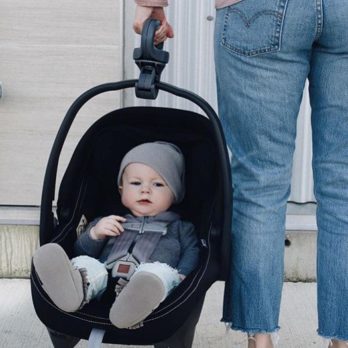 It took a dislocated shoulder for Nathan Day to invent the LugBug, a universal baby seat handle that's ergonomically correct. Day pitches his product, a sturdy plastic handle that clips onto any baby seat, in Shark Tank episode 1003. Baby seats and carriers are designed with the safety of babies in mind, not necessarily the comfort of those carrying them. The handles force you to carry them with the wrists parallel to the handle; this isn't how your wrist wants to work. It's better for the wrist (and arm and shoulder) to carry with the wrist perpendicular to the handle – like you carry a brief case.
Day's solution, The LugBug, is almost elegant in its simplicity. Basically, he designed a big handle with a sturdy clip that snaps to any baby seat. The handle rotates so you can use it in any configuration you want. It's rated at 100 pounds, so unless you're carrying your child in a car seat through the fifth grade, you should be good!
If you want to buy one, it's going to cost you $39.99. You have to wait until November though. They are taking orders on a "pre-order" basis on the company website with delivery in "November 2018." This could mean that Day is having production problems or he just doesn't have the cash now to carry inventory. A Shark could help with both those problems. Will a Shark invest and help Mr. Day get a handle on this business?
My Take on LugBug
Regular readers know I'm a father of five. I can't tell you how many car seats and carriers we've gone through over the years, but it's a heck of a lot more than five! I feel Mr. Day's pain. Carrying those traditional carriers will make both wrist and shoulders hurt. It's the truth!
I do remember with our last child, we had a carrier with an ergonomically correct handle. It had a kind of "Z" shape in the handle where you'd typically carry it. Most baby carriers don't have this feature, so I think there's a good market for LugBug, but if manufacturers start making all handles like that, Day is out of business. Lucky for him, it doesn't look like many of the kind I had are available!
Most parents would love to have this product. I can see it as a "baby shower staple" gift for years to come. I am IN.
Will Sharks Get a Handle on this Product?
The LugBug is a no-brainer type solution to a very common problem. While I am surprised baby carrier manufacturers haven't solved this problem themselves, their lack of action is Mr. Day's opportunity. Will a Shark recognize an opportunity too?
The thing that has me spooked about a deal is the "pre-order" status on the website. That doesn't scream "I GOT A DEAL ON SHARK TANK." These segments get taped several months in advance, a deal with a Shark usually has the business offering its product for sale on show night. That could all change next Monday. If they strike a deal and flip the switch on a new website, my theory is out the window!
Sharks likely to show interest are the Sharkettes and Mr. Wonderful.. I don't think Mark or Robert get too excited about Lug Bug. I see Lori or Barbara making a play and Mr. Wonderful throwing out a royalty offer to spice things up.