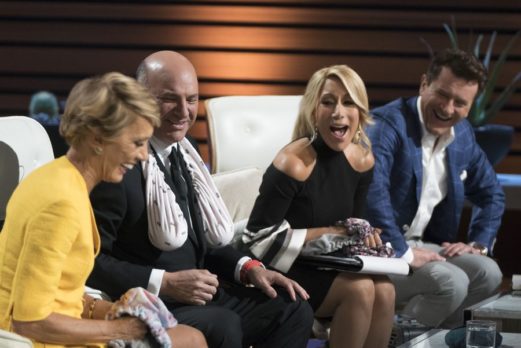 Episode 1003 features all "regular" Sharks and it's a Sharkette special with both Barbara and Lori on the panel. Four new businesses will be pitching the investors, hoping to grow their businesses.
Former corporate big wig and Bahamanian native Keisha Jeremie pitches Sanaia, a line of exotic fruit infused apple sauces geared toward adult palettes. Erin Robertson introduces the Tata Towel, her "boob hammock" towel that's a solution for women with breast sweat issues. Brothers Myles and Tyson Walters introduce the Sharks to Shed Defender, their leotard/onesie for dogs that mitigates shedding and helps with other issues too. Father of three, Nathan Day, wants help getting a grip on Lug Bug, his ergonomically correct baby seat handle.
Which business gets a deal tonight?
The Sharks
---
Barbara Corcoran
Robert Herjavec
Tonight's update segment features Slyde Handboards. Back in season 7, Mark Cuban and Guest Shark Ashton Kutcher invested $200K for 22% of the business which sells body surfing boards for your hands. Sales grew to over $1 million shortly after the show aired; tonight we'll see how far they've come since then.
There are 28 Shark Tank Episodes for Season 10. This season features more appearances by "guest Sharks," including billionaire Jamie Siminoff. The 200th episode also airs this season. Casting is currently closed, but it never hurts to get a head start on season ten! If you would like to appear on the show, check out our Auditions and Casting information.
Episode 1003 – The Shark Investors and Entrepreneurs
The Shark Tank Episode 1003 entrepreneurs will make their best pitch to the panel of five Shark investors who will use their own money if they choose to invest. The Shark Investors negotiate on the spot without any previous information, which differs from typical negotiations between venture capital investors and entrepreneurial start-ups.
Companies pitching the Shark Investors must go through a rigorous due diligence process before an on-air deal is completed. Shark Tank Blog follow ups help you keep track of the companies that end up successful and the ones that don't complete their deal.
Thank you for reading SharkTankBlog, the number one site for Entrepreneurs, Investors and Fans. Our content updates multiple times day, giving you the latest information on Episode 1003, Season 10, and all other seasons and episodes.
Episode 1003 Press Release
Shark Tank: Episode 1003 (10/14)
AN ALL-NEW EPISODE OF ABC'S 'SHARK TANK' DEBUTS ON SUNDAY, OCT. 14
"Episode 1003" – Brothers from Orange County, California, introduce a product that solves the issue of pet shedding; an entrepreneur from Scottsdale, Arizona, believes he has invented a better way to carry a child's car seat; an entrepreneur from Los Angeles, California, presents her solution to a problem some well-endowed women face; an impressive entrepreneur from New York, New York, familiarizes the Sharks with her sophisticated version of a traditional snack, on an all-new episode of "Shark Tank," SUNDAY, OCT. 14 (9:00-10:01 p.m. EDT), on The ABC Television Network, streaming and on demand.
In a "Shark Tank" update, husband and wife, Steve and Angela Watts from Monarch Beach, California, update their investors, Mark Cuban and Ashton Kutcher, on Slyde Handboards, their miniature surfboard that fits in the palm of your hand and gives you more lift, speed and control.
The Sharks in this episode are Mark Cuban, Kevin O'Leary, Lori Greiner, Robert Herjavec and Barbara Corcoran.