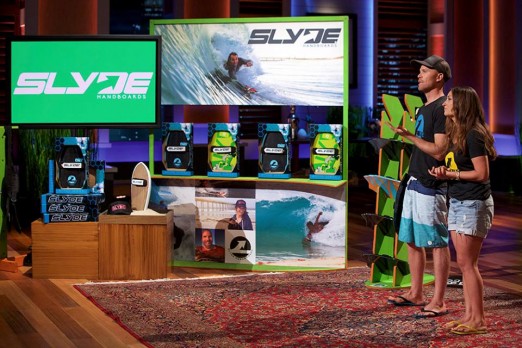 Steve Watts and Angela Ferendo pitch Slyde Handboards, their "handboards" that merge traditional surfing with body surfing, in Shark Tank episode 710. The married couple started working on the business together in 2013, but Steve started it in 2010 out of his garage in Venice, California. They got their newest product, the Slyde Phish, funded on Kickstarter in 2014. Slyde Handboards are basically two mini surf boards you attach to your hands while body surfing. The design gives superior control, lift, and acceleration while body surfing.
Steve, who grew up in South Africa, has been body surfing since he was a little kid. He calls the product a "combination of a surfboard and a snowboard." Using their boards while body surfing gives a "new headfirst surf experience." The first time he thought of attaching surf boards to his hands was when he used two food trays to aid in his body surfing at about age 14. After traveling the world and getting a degree in product design, he started making and selling the first Slyde Handboards on a simple Shopify website. When he met and married Angela, they decided to work together.
Slyde has sales in excess of $1 million, so the concept is proven. The boards are popular with the surfing crowd and with people who want the thrill of surfing without the expense of traditional surfboards. They likely want a Shark to help them take the business to the next level.
Will a Shark want to surf with or snack on Slyde?
Slyde Handboards Shark Tank Recap
Steve and Angela come to the Sharks asking for an investment of $200,000 in return for 15% of the company. With large debt looming and all their savings tied up in the business, they're counting on the Sharks to help them get their company afloat. They show a brief video of the Slyde boards in use and hand out samples of the product.
The boards retail for between $169 and $199, and the couple has sold $366,000 since the company's inception in 2011. In the past year, they had sales of $159,000. They have a projection of $295,000 by the end of the current year.
Robert Herjavec is already involved in a company called Hand Boards, which distributes mainly through small, independent surf shops. He says that profit growth has been slow with that model, and wants to know how the couple plan to market their innovation. Angela explains that they need to educate the consumer in order to build sales through big box stores.
Lori Greiner doesn't feel she's the right partner for this company. She's out.
Kevin O'Leary thinks that the company is too small to invest in, but he does offer to marry the couple "right here in the Shark Tank." In spite of his offer, he's out.
So who's In?
Mark Cuban wants to know who the consumer is. Angela cites the 13-16 and 20-30-year-old surfer enthusiast. Mark thinks the market may be too small. His company, Tower Paddleboards, is looking for ancillary products.
Ashton Kutcher is interested, and he has a large online distribution network, but he doesn't have experience with this kind of product. "I'm a farm kid from Iowa," he jokes. He's willing to make an offer, however, if Mark Cuban will join in. Mark quickly agrees, and the pair offers $200,000 in return for 25%.
Angela and Steve are reluctant to let go of more than 20%, but Mark points out that if they turn down the deal, 5% won't make a big difference.
Kevin asks if Robert has a deal. Robert hesitates.
Kevin gets frustrated and jumps in with an offer of $200,000 for 15%, and he'll marry them.
Robert, not to be outdone, offers $200,000 for 15%.
Angela counter-offers, asking Mark and Ashton if they'll do $200,000 for 20%. Mark says "Make it 22% and you have a deal." The pair confers for a moment before accepting. They walk off the stage with a dual Shark deal.
Ashton Kutcher is so excited about his new investment, he dances on the small table singing "I like to win. I like to win." It appears that Slyde has won a very enthusiastic investor who will help them ride the waves to success.
Slyde Handboards Shark Tank Update
Steve has high praise for their new partners. Ashton has been boots-on-the-ground involved in both social media promotions and branding. Mark brings the sharp understanding of the market that the couple needed. Between the pair and the entrepreneurs, the company's sales have grown to over $1 million annually. The boards are now available in over 40 US retailers. There's a distributor in the UK, and one in Spain as well.
Angela revealed in an interview with Forbes, that it was difficult to turn down the deals offered by Robert and Kevin, but says that Ashton and Mark are the "Slyde dream team" investors. This is one surfing business that's catching the wave all the way to the bank.
Slyde gets an update segment in season ten, episode 1003. During the update, they announce the development of new products to Mark and Ashton. In 2017, they did a Kickstarter to launch The Slyde Grom, a soft board.
In 2018, they got on the shelves at Dick's Sporting Goods.
As of April, 2023, the company is still in business and it's estimated they're doing $2-$2.5 million in sales per year.
Posts About Slyde Handboards on Shark Tank Blog
Slyde Handboards Company Information
Video