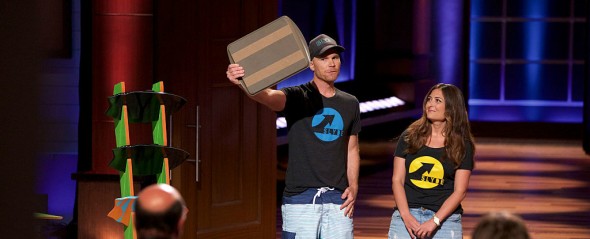 Husband and wife team Steve Watts and Angela Ferendo hope the surf's up in the Shark Tank when they pitch Slyde Hand Boards in episode 710. Watts first used food trays strapped to his hands to get more speed and control while body surfing as a kid. That little body surfing "hack" became a business when Watts began making and selling the first generation of Slyde Hand boards out of his garage in 2010. When he and Angela got married, they decided to work the business together, too.
Watts claims Slyde Hand Boards give people a "new headfirst surf experience." One thing is for sure, they offer much more control than using nothing, allowing body surfers to get a true surfing experience without using a surf board. They recently came out with a new model, the Slyde Phish, which they pre-sold with a successful Kickstarter campaign back in early 2014.
The business has sales, so they likely want a Shark to help fund mass production (and not bite them while body surfing).
My Take on Slyde Hand Boards
I am a big klutz and have never been able to stand up on a surf board or wind surfer. For that reason, when the surf's up, I go body surfing. As a kid, I'd spend hours riding waves in and body surfing when ever I went to the beach. Even now, as an "adult," I enjoy body surfing.
I occasionally use a boogie board when body surfing, but Slyde Hand Boards look like a lot more fun. They're less bulky, too. At $200 apiece, they aren't cheap, but that price pales in comparison to the cost of a new surf board. The complete body surfing set contains a hand board with a GoPro attachment, fins, a coil leash, a carrying bag and an "epic" Kung Fu grip.
While the price is a tad high, I understand that precision, quality sports equipment of any kind comes at a price. The bottom line is this looks like a fun product for body surfers and wannabee surfers everywhere. For that reason, I'm in.
Will Sharks Surf with this product?
Usually when you mention Sharks and surfing in the same sentence, there are accompanying gory photos or videos. In this instance, Steve and Angela want a Shark to bite on their surf board! If a Shark does invest in Slyde, the branding opportunities will be endless.
Slyde Hand Boards has sales: they've sold over $1 million worth of product since its inception. The true test will be whether the bulk of those sales have come in the last two years. If they demonstrate steady increases in sales, they'll attract a Shark. If sales are flat or declining, the Sharks won't bite.
I believe Slyde Hand Boards will get a deal if their numbers are good. I predict Mark won't bite, since Slyde competes with Tower Paddle Boards. Likewise for Lori, this isn't a QVC type product. Slyde's best shot at a Shark is Robert or Ashton. I think one of those Sharks makes an offer.