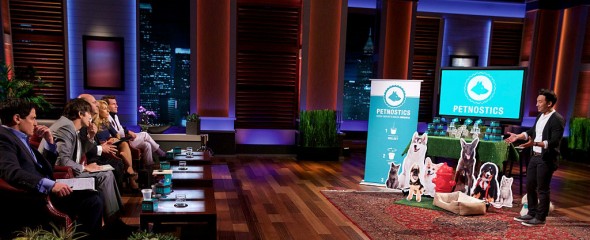 Pet Nostics creator Stephen Chen is like most pet owners: he loves his pet and he wants to keep it healthy. While regular trips to the veterinarian are a must, Chen created a pet urinalysis app to allow pet owners to perform their own "check up" when they have concerns. Chen pitches his patented solution in Shark Tank episode 710.
They way Pet Nostics works is simple: collect some of your dog or cat's urine, place it in the patented cup with a urinalysis strip in the lid, then use the app to read the results of the test strip. It can detect a variety of potential ailments like diabetes, UTI, bacterial infections, proteinuria, liver disease, kidney stones and more. The idea is pet owners can do regular check-ups on their pets without the expense of a visit to the vet. If a serious problem is suspected, then they can make the appointment with some quality information.
The app is free to download and the test cups are $10 each on Amazon. Ten bucks is a lot less than a typical visit to the vet!
My Take on Pet Nostics
Like most responsible pet owners, I make sure our dog gets regular check-ups. Our vet charges $65, plus a lab fee for a check-up with tests. Paying $10 for a urinalysis test could save me a pile of money. While using Pet Nostics isn't a substitute for veterinary care, it can certainly help reduce some expenses related to that care.
I will try this product if my dog starts acting sick and I will use it prior to her next check-up to compare notes with the vet. I think pet owners will embrace this technology because they care so much about their dogs and cats and because it's an inexpensive solution. For that reason, I'm IN.
Will Sharks diagnose this App as a Winner?
The metrics for this business are pretty simple. They have a huge market and an inexpensive solution to serve it; that ought to result in some decent sales numbers. If the valuation is decent, I can't see why Chen won't field offers.
ABC is making a big deal about how the Sharks react to the specimen collection process. Pet owners need to get their dog or cat to "pee in a cup." While this isn't a pleasant experience, most pet owners have had to collect urine (or poop) for a trip to the vet; it's nothing new. That doesn't mean it isn't a bit disgusting, but if you own a dog or cat, you've dealt with their pee before. This "objection" may make for a bit of bathroom humor in the Tank, but it shouldn't be a deal killer.
If Pet Nostics has decent sales, I expect at least one offer, as long as Chen doesn't ask a Shark to pee in the cup!