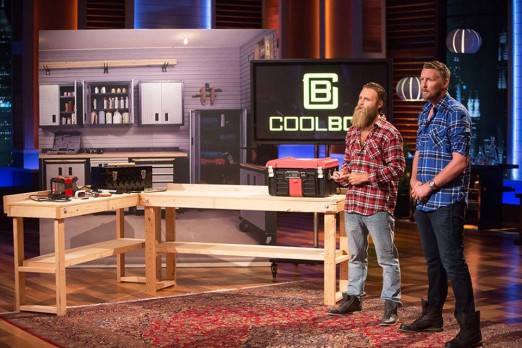 I recently spoke with  Jason Neubauer, one of the inventors of The CoolBox, which airs in Shark Tank episode 728. It's a hectic time for Jason, who's expecting his first child any day now! Add that life-changing event to the whirlwind of activity that surrounds a Shark Tank appearance, and you can imagine Jason is a bit overwhelmed.
It seems the guys in The CoolBox brain trust thrive on hectic schedules. "When we found out we were going to LA to tape," Jason explains, "Chris was in China overseeing some production issues. He flew to Israel the next day to meet with people from Black & Decker about licensing The CoolBox and was on a plane to LA the same day to tape Shark Tank." Talk about jet lag!
Jason, along with partners Chris Stoikos and Mike D'Agostini, has a background in construction. His dad was an electrician and Jason grew up knowing how to run wire and swing a hammer. He's also not new to starting a business. He started his first business – a social betting platform called You Bet Me – after winning $32,000 on Wheel of Fortune in 2010. Chris has start-up experience too: he's a co-founder and the CEO of Dollar Beard Club. When the guys started brainstorming about The CoolBox, the idea was all about modernizing.
"We wanted to make a toolbox for the 21st century that had everything we wanted, as guys on job sites and with toolboxes at home."
The Coolbox Jumps in the Tank
Jason and they guys are all big fans of the show. Charles Michael Yim, from Breathometer, is also a friend. "I'm a huge fan of the show," says Jason. "We all watch it all the time and it was always our dream to go on Shark Tank with The CoolBox. I'm always rooting for the entrepreneurs to win. Our product, and the show, caters to mass market consumer products, so we thought it made a lot of sense for us."
They were approached by a producer at SWSX and were eventually asked to submit a video. The rest is history.
"The whole experience is surreal," Jason continues. "You can prepare for everything, like knowing your numbers, but you can't prepare for the bright lights and having 20 cameras pointed at you. You also can't prepare for some of the things the Sharks say that's 'good for TV.' Going in, we thought Lori and Mark would be good targets for us, particularly Lori because of her knowledge of distribution. One thing that surprised me was how nice Mr. Wonderful was to us – he was much nicer than I thought. For our taping, he was like the host of the show."
Jason puts his money where his mouth is when it comes to Shark Tank: he's purchased Grinds Coffee Pouches, The Clean Bottle, and a Squatty Potty.
Using Crowdfunding
The CoolBox got off the ground with their first and only crowdfunding project: an IndieGogo Campaign that raised over $370,000. That was in March of 2015. They are set to deliver completed products to their backers by late May or June of 2016. "We really underestimated the amount of work it would take to get the final product made."
"The thing about crowdfunding is you can get proof of concept before going into production," says Jason. "The only risk is if the project fails to fund. It's also important to hit some benchmark numbers early in the campaign to gain momentum. We went with IndieGoGo because we know the CEO, but it would have been interesting to see how we would have done on Kickstarter."
"One of our challenges now is which direction we want to go. Do we want to produce and sell the CoolBox ourselves, or do we want to go the licensing route? Ultimately, we'll do what makes the most sense for our company."
Parting Thoughts
Obviously, Jason couldn't divulge what happens in the Tank, but he did give some solid advice for people who want to start a business:
"The best thing about crowdfunding is you can test market on a lean and mean budget. Crowdfunding is all about marketing. You need a simple, concise message and a product that meets a need or solves a problem. You need to have the vision and think about it every second of every day. If you don't have that passion, you won't succeed."
Whatever the outcome, The Coolbox guys seem to have their house in order. They're sure to be winners, whether they do a deal or not.
I had one other question for Jason. He answers it on The Hot Dog Truck.