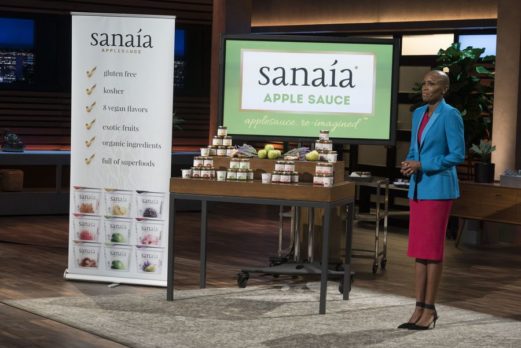 Keisha Jeremie wants to make Sanaia a new snack staple when she pitches her brand of "adult" applesauces in Shark Tank episode 1003. Keisha grew up in the Bahamas and ate a lot of fresh fruit. She's been concocting interesting applesauces since she was a child. While attending the University of Virginia, she began making applesauce to cure her longing for home. Her dorm mates loved it!
Fast forward 20 years. Keisha spent time living the American dream, working as the global head of HR for a Fortune 500 company. After a trip home, she brought some tamarind sauce back to the states and mixed it with her home-made apple sauce. That was what inspired her to turn Sanaia into a brand and a whole new snack food category: apple sauce for grown ups.
Apple sauce is currently about a $900 million market and it's primarily geared towards children. Keisha believes she can disrupt this market with her adult approach as people demand more healthy, plant-based and dairy free snacks. Sanaia has flavors like guava and lavender pear – this is not the apple sauce you had as a kid! The texture is less mushy too as a small wedge of apple pie is in every jar.
At $19.99 for a four pack of 7.75 ounce jars, it's on the pricey side. Those prices can likely come down a bit with broader distribution and increased production runs. That's Keisha's likely end game and why she's jumping into the Tank.
Sanaia Company Information
Video

Posts about Sanaia on Shark Tank Blog
Sanaia Shark Tank Recap
Keisha enters the Shark Tank seeking $150,000 for 15% of her business. She tells her story and gives her pitch before handing out samples. She explains she's done a lot of research into the industry and conducted a six month test for proof of concept. The test earned $40,000. She has two types of packaging she's considering, a glass jar or a plastic cup similar to a foil topped yogurt container. She plans on selling on Amazon in the near future and claims she has interest from several big companies.
Barbara makes a Sharky offer of $150,000 for 75% of the business which Keisha immediately declines. Kevin is concerned that she still has a full time job and Keisha tearfully explains she isn't going to sacrifice her family's security. Mark decides to offer $150,000 for 25% and she accepts.
Sanaia Shark Tank Update
The Shark Tank Blog constantly provides updates and follow-ups about entrepreneurs who have appeared on the Shark Tank TV show. The deal with Mark never closed. Keisha decided to go with the yogurt cup – like packaging. She got product into Wal Mart, Aldi and other grocers. At some point in 2020, Keisha stopped producing her product due to the Covid-19 pandemic. In a February, 2021 interview with CNBC, she states that she hopes to produce it again someday. The products are no longer available in Aldi or Wal Mart (I used to buy  them there), Amazon or her website. As of June, 2021. Keisha is currently "Head People Person" (head of HR) at Tory Burch and there is no mention of Sanaia on her LinkedIn page.
In April, 2022, I received an email from Grace over at Sanaia's publicity firm. It seems that Covid knocked her off course and she had to go out and find a new co-packer. After two years of dormancy, the company officially relaunched Sanaia Applesauce in April, 2022. Their Unsweetened and Guava flavors are available for purchase on Amazon. Blackberry and Hibiscus will launch in June, 2022. By April, 2023, she was making sauce made to order from her new website.
*Editor's note: I have tried this and they are super yummy!