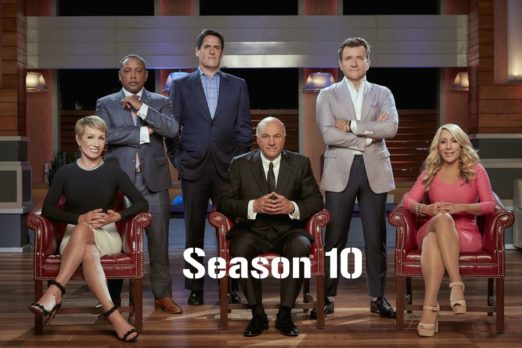 Shark Tank Season 10 premiers Sunday, October 7 at 10 PM eastern time. The first show of season 10 is also the 200th episode of Shark Tank and will feature some success stories from the past.
In an added twist, RING (Doorbot) inventor Jamie Siminoff, appears as a "guest Shark" in the season 10 premier.  Siminoff appeared in season 5 where he pitched Doorbot (later re-named RING). He turned down a deal with Mr. Wonderful, then went on to partner with Richard Branson. In early 2018, he sold the company to Amazon for $1 billion. He's the first Shark that was once "on the carpet" pitching his business.
To date, nearly 800 businesses pitched the various Sharks in the Tank, spawning amazing successes and epic failures while entertaining and educating its fans. More guest Sharks appear this season, including Rohan Oza, Bethany Frankel, Sarah Blakely, Alex Rodriguez, Charles Barkley, Matt Higgins, and the aforementioned Jamie Siminoff.  Season 10 promises to bring many more new and innovative businesses to the Tank as the show becomes a decade old.
Season 10 Investors:
Hopeful Entrepreneurs in various stages of business development enter the Shark Tank seeking an investment from one of the wealthy Sharks. Some entrepreneurs are in the Tank for publicity, others seek guidance and partnerships. All deals made on air are subject to a due diligence process after their segment is taped.
Shark Tank Season 10 Episodes Lineup
Update Segment – Montage of past success stories
Update Segment – Guest Shark Matt Higgins Bio
Update Segment – Guest Shark Charles Barkley Bio
Update Segment – Women Entrepreneurs from Shark Tank visit Facebook
Update Segment – High school students Visit with Sharks
Update Segment – A Look Back at Season Ten
Shark Tank Season 10 Press Releases
8/1/18:
Back for a Momentous 10th Season Beginning Sunday, Oct. 7, ABC's 'Shark Tank' Announces Stellar Slate of Brand-New Guest Sharks and a Former Entrepreneur Earns a Seat in the Tank as a Shark
BACK FOR A MOMENTOUS 10TH SEASON, ABC'S 'SHARK TANK'
ANNOUNCES STELLAR SLATE OF BRAND-NEW GUEST SHARKS AND, FOR THE FIRST TIME EVER, A FORMER ENTREPRENEUR EARNS A SEAT IN THE TANK AS A SHARK
Charles Barkley, Legendary NBA Basketball Star and Entrepreneur;
Matt Higgins, Entrepreneur, Investor and Miami Dolphins Vice-Chairman;
Jamie Siminoff, Founder and Chief Inventor of Ring
Fan Favorites Sarah Blakely, Bethenny Frankel, Rohan Oza and Alex Rodriguez
Also Return to the Tank
"Shark Tank," the critically acclaimed and multi-Emmy® Award-winning entrepreneurial-themed reality show, today announced the addition of three brand-new guest Sharks including Charles Barkley, Matt Higgins and, for the first time, former "Shark Tank" entrepreneur-turned-Shark, Jamie Siminoff. After his debut in the tank in 2013, Siminoff went on to sell his company, Ring, to Amazon for over a billion dollars. The show, produced by MGM Television and Sony Pictures Television, which has become a culturally defining series, returns for its 10th season, SUNDAY, OCT. 7 at 10 p.m. EDT, before moving to its regular timeslot the following SUNDAY, OCT. 14 at 9 p.m. EDT. It has been "A Decade of Dreams" for "Shark Tank," and this year will be no different. The 10th season will also bring back powerhouse fan favorites, including Sarah Blakely, Bethenny Frankel, Rohan Oza and Alex Rodriguez. The guest Sharks, who are icons and trailblazers in their respective business fields, will appear individually alongside Sharks Mark Cuban, Barbara Corcoran, Lori Greiner, Robert Herjavec, Daymond John and Kevin O'Leary in various episodes during the 2018-2019 season.
The new guest Sharks are (alphabetically) as follows:
• Charles Barkley – Named one of the 50 Greatest Players in NBA History, Charles Barkley has followed up his Hall of Fame basketball career with an Emmy Award-winning television career. Barkley added "investor" to his already impressive resume, having committed to investing $1 million into female entrepreneurs in 2018. A consummate entertainer, Barkley has evolved into a pop-culture icon who commands a very large and diverse audience that may not always agree with his opinions but respects his ability to tell it like it is and speak from the heart. He played 16 seasons in the NBA for the Philadelphia 76ers, Phoenix Suns and Houston Rockets, and represented the United States and won an Olympic gold medal as a member of the USA Dream Team. More recently, Barkley teamed with Dwyane Wade in a series of memorable campaigns for T-Mobile. Barkley's ability to connect with viewers through his humor is abundantly clear; and in 2012, he became the spokesman for Weight Watchers for Men and the "IT Guy" in ads for CDW. In 2013, Barkley teamed up with Alec Baldwin in an NCAA-themed campaign for Capital One. Barkley has been a member of Turner Sports' NBA broadcast team since 2000, as part of the Emmy Award-winning "Inside the NBA" studio show. In 2011, his duties expanded to include broadcasting the NCAA's "March Madness" college basketball tournament, in partnership with Turner and CBS. He's been nominated for four Sports Emmys and has won the last two in 2012 and 2013. In addition to his television career, he has also written numerous books.
• Matt Higgins — Matt Higgins is a proven operator, investor and business builder with a knack for helping founders at pivotal growth moments achieve breakout success. He serves as CEO of RSE Ventures, a private firm that incubates and invests in companies across sports and entertainment, food and lifestyle, media and marketing, and technology. Higgins co-founded RSE with Miami Dolphins owner, Stephen M. Ross, the most prominent private developer in the U.S. and a serial entrepreneur. Together Higgins and Ross have helped build enterprises from scratch, including the largest privately owned soccer tournament in the world (International Champions Cup) and leading brand strategy and communications agency Derris. As an incubator, RSE has helped build leading restaurant software company RESY and the world's premier drone racing circuit, the Drone Racing League. Higgins was the first client of marketing guru Gary Vaynerchuk, before becoming a co-owner of VaynerMedia and a partner with early-stage venture fund Vayner/RSE. RSE most recently built a portfolio of dynamic restaurant brands by partnering with Momofuku, Milk Bar, &pizza and Bluestone Lane, and invested in cybersecurity with the acquisition of SkOUT. Higgins began his career as the youngest press secretary in New York City history, where he helped manage the global press response during 9/11. He has been an executive for two NFL teams – currently serving as vice chairman of the Miami Dolphins.
Twitter: @mhiggins Instagram: @matthigginsrse
• Jamie Siminoff – A lifelong inventor and successful entrepreneur, Jamie Siminoff created the world's first Wi-Fi video doorbell while working in his garage in 2011. He pitched his doorbell, then called DoorBot, as a "Shark Tank" entrepreneur in 2013, turned down the only offer he received from Shark Kevin O'Leary and left without a deal. He has since transformed his invention into what's now known as Ring, a security powerhouse that offers several DIY home security products and services, including the popular Ring Video Doorbell that's capable of preventing and solving neighborhood crime. Under his direction, Ring has seen incredible success and growth. In 2018, Amazon purchased Ring, one of the company's largest acquisitions. With the support of Amazon, Ring and Siminoff continue to innovate and remain at the bleeding edge of home security. Prior to Ring, Siminoff founded several successful ventures including PhoneTag, the world's first voicemail-to-text company, and Unsubscribe.com, a service that helped email users clean commercial email from their inboxes. He successfully sold both companies in 2009 and 2011, respectively.
Twitter: @JamieSiminoff
"Shark Tank" is broadcast in 720 Progressive (720P), ABC's selected HDTV format with stereo sound.
About "Shark Tank"
The recipient of the 2017, 2016, 2015 and 2014 Emmy Award for Outstanding Structured Reality Program, "Shark Tank" features The Sharks – tough, self-made, multimillionaire and billionaire tycoons – as they invest in America's best businesses and products. The Sharks will give people from all walks of life the chance to chase the American dream, and potentially secure business deals that could make them millionaires. Mark Burnett, Clay Newbill, Yun Lingner, Max Swedlow and Phil Gurin are the executive producers of "Shark Tank," which is based on the Japanese "Dragons' Den" format, created by Nippon Television Network Corporation. The series is produced by MGM Television in association with Sony Pictures Television.