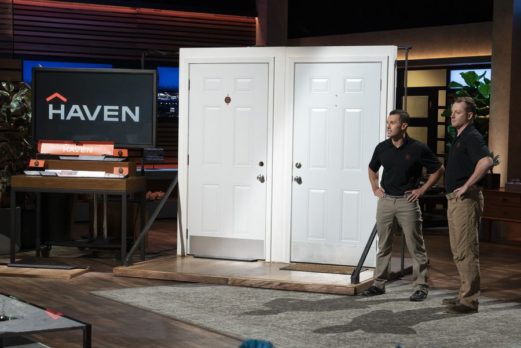 Clay Banks and Alex Bertelli pitch Haven, their "lock" developed in a war zone, in Shark Tank episode 1018. Bertelli is a veteran Special Ops helicopter pilot and a recipient of the Distinguished Flying Cross, the Bronze Star with Valor, the Air Medal with Valor, and the Boeing Rescue Award. After leaving the armed forces, he met Banks and developed an idea he saw while deployed in Afghanistan.
He noticed people securing their homes with steel bars at the top, middle and bottom of the door. This is more effective than a single deadbolt in the middle of the door. This led him to develop the Haven Lock, a wedge that secures a door from the inside. Made from military grade steel, nylon and polycarbonate, the Haven lays at the base of your door. When deployed via a key fob or via the Haven app, a wedge rises and secures the door. You can even unlock it remotely for expected visitors.
Bertelli makes Haven Locks in Tennessee and employs many veterans. They tried Kickstarting the product back in 2014, but were unsuccessful. Since then, Bertelli, with the help of Banks – a business and economic development pro, have built the business up. A Connect model will set you back $350 – that's the one with the app and key fob activation. A Mech model costs $189 and the wedge lock activate manually.
Bertelli and banks likely want a Shark to help with cash for production and with marketing. Will a Shark lock down a deal for this business?
Haven Company Information
Video

Posts about Haven on Shark Tank Blog
Haven Shark Tank Recap
Clay and Alex enter seeking $500,000 for 6% of their company. As they tell their story Alex prepares to show how "easy" it is to kick in a door with a regular deadbolt. He must've drop kicked the door a dozen or more times and it didn't budge. He kept at it as the Sharks howled with laughter. Apparently, the show's producers put an extra strong deadbolt in the demonstration door. Once he finally drop- kicked the door in, the pitch went on.
The guys recently fulfilled an order for 100 schools in Arkansas as a security measure for lockdown situations. Mark thought it was a good idea. With $250,000 in sales under their belt, things are going well for the business, but the Sharks don't like the margins. The mechanical model costs $67 to manufacture and sells for $182. Bluetooth models cost $82 and sell for $349.
Unfortunately for Casey and Alex, they didn't get any offers, but Mark assured them they'd go down in Shark Tank history.
Haven Shark Tank Update
The Shark Tank Blog constantly provides updates and follow-ups about entrepreneurs who have appeared on the Shark Tank TV show. Despite leaving without a deal, the company had some good news. Just a few days before their episode initially aired, Haven partnered with pest control company Terminix who will offer the locks to their customers. The deal is for eleven cities initially but will eventually be nationwide.
In February, 2020, the company appeared on the Shark Tank Greatest of All Time Special. They were one of two pitches in the "Greatest Pitch Fails" category. Mark said it was the funniest pitch ever on Shark Tank.
As of June, 2021, the company is still in business with annual revenue of $4 million.