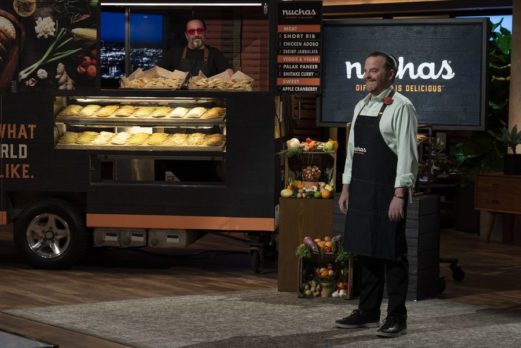 Ariel Barbouth wants the Sharks to take a bite out of Nuchas, his hand-made empanada business that's taking New York by storm. Barbouth and his wife – Leni – arrived in New York in 2009 with $9000 and a dream. In 2011, the dream came to fruition when he opened his first Nuchas location in a small kiosk in Times Square. Next came two food trucks and two pushcarts. A second retail location opened in Greeley Square in 2013.
Nuchas is very well received in New York by patrons and food critics. In 2013, he was the Vendy Awards Rookie of the Year and in 2014 he won the People's Taste award. The street food public likes the fresh, hand-made empanadas that made Barbouth famous.
An empanada is a baked or fried pastry with any number of fillings. Nuchas bakes their empanadas and fills them with beef, pork, chicken and dessert fillings. There are vegetarian and vegan offerings too. Everything is baked by hand and all the ingredients are fresh without added hormones or antibiotics. An empanada at a retail location will cost you four to six bucks – depending on the fillings. Barbouth is actively soliciting wholesale customers too.
He likely wants to expand Nuchas' retail footprint and ultimately offer the product as a supermarket product. A Shark could help with that. Will a Shark take a bite out of this delicious business?
Nuchas Company Information
Video

Posts about Nuchas on Shark Tank Blog
Nuchas Shark Tank Recap
Ariel enters seeking $2 million for 8% of his business. He tells his story and hands out samples. The Sharks love the empanadas, but want to hear numbers. He has four retail locations in New York City which brought in $2 million in sales last year. His wholesale business did $3 million. He says he'll have $750,000 in profit this year and $3 million next year.
He wants an investment to increase his wholesale production capabilities. The Sharks like BOTH sides of his business and the offers reflect that. Daymond offers $2 million for 25% and he wants his investment back in four years. Barbara offers $1 million for 100% of the retail business and a $1 million loan to expand the wholesale side. She wants to franchise the retail business and promises to buy all her products from the wholesale business. When Ariel counters Daymond's offer, Daymond goes out. Barbara's offer is the only one left on the table and, not wanting to give up the retail business, Ariel declines and leaves with no deal.
Nuchas Shark Tank Update
The Shark Tank Blog constantly provides updates and follow-ups about entrepreneurs who have appeared on the Shark Tank TV show.  Apparently, Ariel liked Barbara's franchising idea. The company started offering franchises shortly after the original air date. All franchisees will be supplied by the wholesale side of the business. They now offer direct to consumer shipping nationwide and they've partnered with Yumble, the kid's meal box from earlier in season ten, to offer empanadas for kids. Sometimes, NOT doing a deal in the Tank pays off. Look for big things from Nuchas in the future.
In 2020, they were affected by the Covid-19 pandemic and their goal was to keep their team safe and the business running while pursuing new opportunities.
In January, 2021 they opened at two convention centers, one in New York and one in Atlanta. When stadiums reopen, they have contracts with 50 stadiums and are looking for more. In April, 2021, the company partnered with Franklin Junction, a "host kitchen" company, for remote production for the wholesale side of the business. Unlike "ghost kitchens" which exist as a separate entity, host kitchens use existing restaurants allowing them to leverage their kitchens for additional revenue. Speaking of revenue, as of November, 2022, this business is doing $6 million a year and growing. At this time, there are still only 6 physical locations and they've dropped franchising to focus on wholesale distribution.