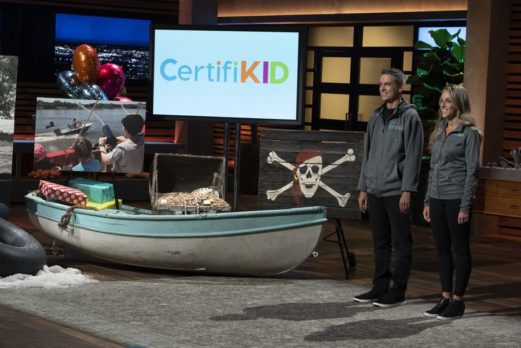 Brian and Jamie Ratner seek an investment for Certifikid, their "deal" website for families with kids, in Shark Tank episode 1018. Certifikid is like Groupon, but for families. Instead of discounts on fine dining or beauty salons, the company does deals for family outings and recreation, kids' summer camps and classes, children's theatre and museums, birthday party packages and family getaways.
Jamie started the business in 2010 with $5000. At the time, she was a mommy blogger with a passion for daily deal sites like Groupon. What she found was there were no real good deal sites for family activities, so she started her own. Now, she and Brian claim they have the largest daily deal site for families out there. They originally started in the Washington DC area, but they've expanded to Chicago, Los Angeles, Atlanta and more.
Ratner started the site because raising kids is expensive. She wanted a site that could save families money. It was a natural extension of her blogging: she wrote about finding inexpensive activities for kids in greater DC. If you're familiar with Groupon, Certifikids works in the same way. I searched in my area and found a ticket to an indoor rock climbing center for $7.95 – half off the regular $15.95 price. For parents with families, this is a great way to save on a family outing.
The Ratners don't think they need a Shark, but they want a Shark to help "be the gasoline to our flame and help us reach our potential much more quickly." Will a Shark certify this business?
CertifiKid Company Information
Video

Posts about CertifiKid on Shark Tank Blog
Certifikids – Groupon for Families
CertifiKid Shark Tank Recap
Brian and Jamie enter seeking $600,000 for 8% of their business. They get right into the numbers after telling their story and the Sharks are impressed. They made $700,000 net income off $5 million in sales the previous year and have over $30 million in sales since opening for business in 2010. They want a Shark's cash to help with growing their sales team. Currently, they have about one million subscribers to their deals newsletter with roughly half of those people regularly engaging. The newsletter has a  10% open rate with a 14% click-through rate.
The company makes money by taking a percentage of each deal purchased. The Sharks share some concerns about the daily deals industry, but it doesn't take long for the offers to start coming. Daymond offers $600,000 for 17.5% of the company. Barbara offers $600,000 for 25% contingent on franchising the concept. Kevin offers $600,000 for 20%, contingent on him making three times return on his investment on exit. After some wild negotiation between Brian and Kevin, they settle on $600,000 for 19%.
CertifiKid Shark Tank Update
The Shark Tank Blog constantly provides updates and follow-ups about entrepreneurs who have appeared on the Shark Tank TV show. This deal closed with Kevin and the company is listed on his website. Since the original air date – just four months ago as of July, 2019 – the company added several new cities. It looks like this was a wonderful deal for all involved.
In January, 2020, the company rolled out nationally. Unfortunately, the Covid-19 pandemic started a month and a half later. All the deals and activities on their site went dark. Jamie started finding companies with virtual or at home activities. Brian, who happens to be a lawyer, sought federal relief and got a forgivable PPP loan.
Now that things are opening back up, so is the business. As of June, 2021, the company is back in business and offering deals (I checked). By July, 2022, Brian said the business was "back to normal."
In January, 2023, Certifikid acquired Hulafrog for an undisclosed amount. Hulafrog is a website and digital news letter that gives "parents a comprehensive source for family activities and local businesses." As of January, 2023, annual revenue is $5 million.