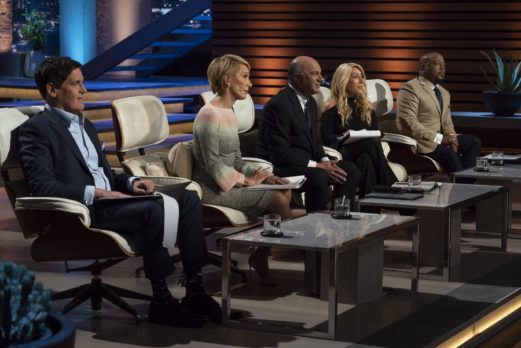 The Sharkettes swim in the Tank along with Mark, Kevin and Daymond in episode 1018. They'll evaluate four new businesses seeking a partner and cash amongst the Shark panelists.
Brian and Jamie Ratner want to accelerate the growth of CertifiKid, their daily deal site that's like Groupon for families. Teddy Giard, Logan Lamance and Austin Maxwell want the Sharks to invest in Kanga, their iceless cooler that keeps beer cold for 5 hours. Clay Banks and Alex Bertelli want to lock down a deal for Haven, their made in the USA wedge lock for doors. Ariel Barbouth wants a Shark to bite on Nuchas, his wildly successful empanada restaurant concept. Which business catches a Shark tonight?
Back in season nine, Lori invested $350,000 plus a $2 royalty for ten percent of The EggMazing Egg Decorator. Since then, it continues to sell well. In tonight's episode, we'll see what's happening with the company now.
The Sharks
---
Barbara Corcoran
Daymond John
There are 28 Shark Tank Episodes for Season 10. This season features more appearances by "guest Sharks," including billionaire Jamie Siminoff. The 200th episode also airs this season. Casting is currently closed, but it never hurts to get a head start on season ten! If you would like to appear on the show, check out our Auditions and Casting information.
Episode 1018 – The Shark Investors and Entrepreneurs
The Shark Tank Episode 1018 entrepreneurs will make their best pitch to the panel of five Shark investors who will use their own money if they choose to invest. The Shark Investors negotiate on the spot without any previous information, which differs from typical negotiations between venture capital investors and entrepreneurial start-ups.
Companies pitching the Shark Investors must go through a rigorous due diligence process before an on-air deal is completed. Shark Tank Blog follow ups help you keep track of the companies that end up successful and the ones that don't complete their deal.
Thank you for reading SharkTankBlog, the number one site for Entrepreneurs, Investors and Fans. Our content updates multiple times day, giving you the latest information on Episode 1018, Season 10, and all other seasons and episodes.
Episode 1018 Press Release
Shark Tank: Episode 1018 (4/7)
AN ALL-NEW EPISODE OF ABC'S 'SHARK TANK' DEBUTS SUNDAY, APRIL 7
"Episode 1018" – First into the Tank is an entrepreneur from North Bergen, New Jersey, who introduces a traditional hand-held food snack from his Argentinian culture. Entrepreneurs from Nashville, Tennessee, pitch their smart security product to help keep intruders out of the home. A trio of entrepreneurs from Clemson, South Carolina, present their convenient beverage carrier product designed to help keep items cold. Last into the Tank are a husband and wife from Potomac, Maryland, who introduce their online tool which helps offer a wide variety of family activities at an incredible discount on "Shark Tank," SUNDAY, APRIL 7 (10:01-11:00 p.m. EDT), on The ABC Television Network, streaming and on demand.
In a "Shark Tank" update, Curtis McGill and Scott Houdashell, from Amarillo, Texas, update their investor, Lori Greiner, on Eggmazing Egg Decorator, a fun solution to decorating eggs without all the mess.
The Sharks in this episode are Mark Cuban, Kevin O'Leary, Lori Greiner, Barbara Corcoran and Daymond John.