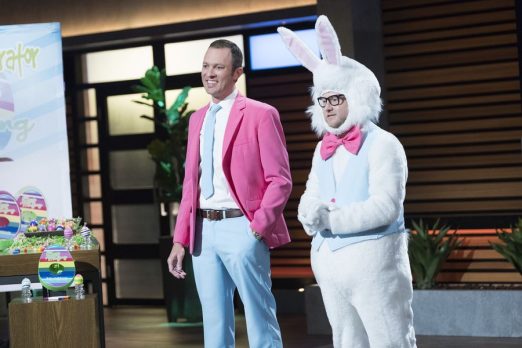 Curtis McGill and Scott Houdashell hope to "egg-cite" the Sharks with the Eggmazing Egg Decorator in Shark Tank episode 921. Houdashell, the product inventor, loves decorating Easter eggs, but he hates the mess it creates. In 2015, he began tinkering with the idea of making egg decorating easier and more fun. After nearly a year of fiddling and testing, he sourced a manufacturer and got ready to go into production.
To get going, he used a successful Kickstarter campaign that raised $7,736 in December, 2016. He executed well and had the Eggmazing Egg Decorator in customer's hands by Easter 2017. The way it works is a hard-boiled egg nests in a battery operated series of rubber wheels. The wheels spin the egg in circles. All you have to do is hold a magic marker on the spinning egg and VOILA! Every egg is different! He also sells a Treemendous Christmas Tree Ornament Maker using a similar design.
Each Eggmazing Egg Decorator costs $29.99. It comes with 8 markers. Eggs and batteries are not included! The product is patent pending, too. Houdashell brings bunny ears for the Sharks to wear while they test out his product. He likely wants a Shark's help with mass distribution. Will the Sharks be "egg-static" about this business?
Eggmazing Egg Decorator Company Information
Video

Posts about Eggmazing Egg Decorator on Shark Tank Blog
Eggmazing Egg Decorator Shark Tank Recap
Curtis and Scott (who is dressed as the Easter Bunny) enter seeking $350,000 for 7% of their business. They explain how egg decorating hasn't changed for generations.  Dunking eggs in dye is smelly and messy, their method is fun and clean. They demonstrate how it works and then Curtis's kids hand out samples.
After the Sharks don bunny ears and look at the samples, Curtis's kids leave the stage with his wife. Kevin wants to know how they came up with the idea. Back in 2015, Scott was using the old vinegar and dye tablet method to color eggs with his kids and wanted to find a better way. He got out a glue gun and an electric screw driver and built the first prototype. Kevin is intrigued, but thinks it's too seasonal.
He explained that they ordered 10,000 units and they were delivered on March 1, 2017. They sold all 10,000 units in 23 days netting $150,000 with profits somewhere between $45,000 and $50,000.  The original cost was $19.99 on their first production run and $24.99 for the second run. They even found one for sale for $120 on Ebay.
When Barbara asks about pre-orders for the following Easter, Scott explains they have $1.2 million in purchase orders. Their cost is down to $4.71 landed in the packaging and they wholesale for $12.50. All their orders are non-returnable. Kevin is impressed.
The Offers
Curtis further explains that half the orders are for their sister product – The Treemendous Ornament Decorator. It retails for $29.99 and comes with three ornaments and 8 markers. Kevin balks at the price and says people don't decorate ornaments like they do with Easter Eggs. Still, he offers $50,000 plus a $300,000 loan at 13% for 33% of the company. Robert exclaims, "that's egg-scrutiating!" After Curtis states he's doing this for his kids, Kevin drops the interest rate to 11%.
Barbara has misgivings about The Treemendous Ornament Decorator, but offers $350,000 for 15%. Half is cash, half is a credit line at a rate set by her bank. She says as long as they have purchase orders, she'll fund them. Kevin then counters with $300,000 loaned at 7% plus $50,000 in cash for 20%. Lori jumps in and offers $100,000 plus a $250,000 loan at 7% for 12.5% of the company.
Robert goes out, then Barbara offers a straight $350,000 loan at the lowest rate she can get for 10% of the business. Lori counters with $350,000 for 10% plus a $2 royalty on each unit until she's paid back. Half her royalties will go to a charity of Curtis and Scott's choice. Mark says it's a good deal and they accept Lori's offer.
Eggmazing Egg Decorator Shark Tank Update
The Shark Tank Blog constantly provides updates and follow-ups about entrepreneurs who have appeared on the Shark Tank TV show. Since the show aired, The Eggmazing Egg Decorator is now widely available at Wal Mart, Target and on Amazon. In the calendar year following the original air date, the company did $12 million in sales. It now retails for $29.99 and The Treemendous Ornament Decorator is $34.99.
The business gets an update segment in  season 10, episode 1018. Not coincidentally, the update airs three weeks before Easter, 2019. In the segment, they introduce new kits for Christmas and Halloween. They also have a dinosaur egg decorating kit which comes with an egg with a dinosaur inside.
In 2020, Wal Mart sales were up 226% over the previous year. Amazon sales were up a whopping 4400%. It got to the point where, between volume and the Covid-19 pandemic, it was hard to find the kits in stores.
As of July, 2022, the company is still in business and has revenues of $5 million annually.