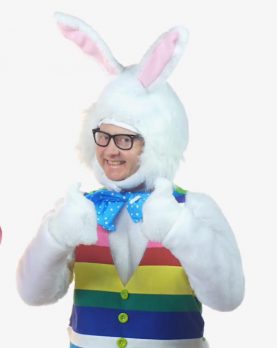 Scott Houdashell, creator of The Eggmazing Egg Decorator kit, loves Easter because he loves decorating Easter eggs. Like many others, he hates the mess and hassle of the activity. Cups of liquid food dye and messy stickers make for a less than satisfactory experience for many egg decorating aficionados.
Houdashell decided to do something about it. Back in 2015 he started brainstorming the product that eventually became The Eggmazing Egg Decorator. By late 2016, he had a working prototype, molds, and a successful Kickstarter campaign to fund his first production run. He delivered products to his Kickstarter backers by Easter, 2017.
The Eggmazing Egg Decorator is basically several rubber wheels that spin a hard-boiled egg around in a circle. When you apply a magic marker, it creates colorful rings around the egg. By using different colors, you can get a unique and aesthetically appealing egg in a minute or two without a big mess. The company also makes the Treemendous Christmas Tree Ornament Maker that substitutes blank, white ornament balls for eggs.
When Houdashell and his business partner, Curtis McGill, pitch the product in episode 921, they likely want a Shark's help getting broad distribution. They're sure to get a ton of pre-Easter orders, too. Will a Shark want to hop on board with this niche business?
My Take on The Eggmazing Egg Decorator
I've done the egg decorating thing with my kids for years. Since they've outgrown the Easter bunny, we don't decorate eggs like we used to, but I still boil some up every year. Lately, we got away from dying eggs. We've been using markers on our Easter eggs for five or six years now. It's just easier and a lot less work.
I think The Eggmazing Egg Decorator is a clever invention. Ten years ago, I would've bought one. It looks fun and it looks easy – two good things when dealing with kids and eggs. The "no mess" feature is a big plus, too. While I'm not a customer, I think they'll sell a crap-ton of these once this episode airs.
Do Sharks Eat Eggs?
This is a niche, seasonal product. While that's not a deal killer in the Tank (see Mensch on a Bench and others), it can be a set back. The fact that Houdashell has both an Easter and Christmas product will help. Good sales numbers will help, too.
Another thing this business has going for it is the ability to "eggsecute."  They went from idea to delivered product in two years. That's no small feat when your're dealing with molds, tooling and overseas manufacturing. While Houdashell and McGill can deliver, they need to show good sales. If any Shark bids on this, it will be based on sales and not much else. Expect Lori, Barbara and Kevin to make bids on this business.