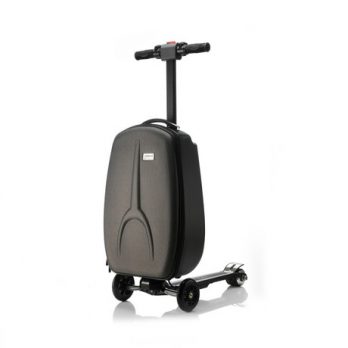 Tony Chan keeps doing crowdfunding for Cool Peds, his line of electric scooters and bikes. He's done five IndieGoGo campaigns and raised a little over $20,000. Cool Peds are electric scooters with backpacks and briefcases attached to them. He claims they're great for the urban commuter who wants to tote things around while avoiding driving and staying "subway friendly."
While Cool Peds Scooters are the prime focus of this pitch, Chan also unveils another electric-powered product: The Ampere Electric Sports Car. This two-seat, three-wheeled "car" is a local motion ride that gets about 150 miles per charge. It sells for only $9,900, which makes it affordable for almost everyone. The company pre-sold a bunch at CES 2018 in Las Vegas.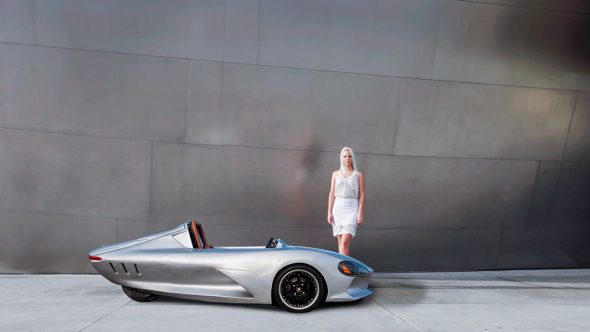 Both products show Tony's commitment to clean transportation. Since starting his own international design firm, he's been making and selling electric bikes and scooters. The new Cool Peds scooters resulted from a need to tote things along while scooting around town. He's hoping a Shark shares his vision for electric transportation when he pitches his products in episode 921.
My Take on Cool Peds
I think the scooters are cool, but the electric scooter and bike market is extremely crowded. Google electric scooters and the sheer number of results would give the average person "paralysis by analysis." Razor Scooters, the company the re-invented the scooter 20 years ago, has a whole line of electric scooters with world-wide distribution – at half the price of Chan's scooters. If Cool Peds wants to compete in the electric scooter space, it needs to make a big deal about the attached luggage compartments. Chan also needs to sell more than $20K worth of inventory.
The Ampere Electric Car is a far more intriguing product. While there are many electric cars from Tesla and other major auto manufacturers, there aren't any priced under $10,000 currently on the market. While the Ampere isn't comparable to a Tesla or a Chevy Volt or most of the others, it offers an inexpensive alternative for drivers who don't need to travel long distances. It looks like a heck of a lot of fun, too!
While I think the scooters are cool, I think they're over-priced compared to the competition. As for the sports car, I am in.
Will Sharks want to Scoot?
I can't see the Sharks getting too excited about Cool Peds scooters. There doesn't appear to be enough sales to get excited about and, as I stated above, it's a very crowded market with lower priced, big players dominating it. That's not going to get a lot of bids, period.
If the Ampere electric car is in play, there could be some interest. The fact it was a popular product at CES tells me there may be some Shark involvement. The Cool Peds website is nothing special; it doesn't scream "WE GOT A DEAL ON SHARK TANK!" The Ampere motors site is a lot snazzier and professional. The car is cooler than the scooters, too. If a deal gets done, it'll be because of the car, not the scooters.