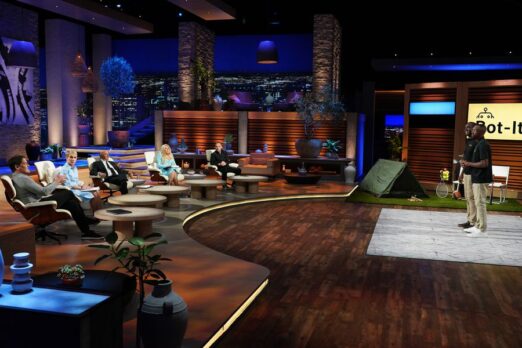 Maurice Bachelor and Joel Griffith want a Shark to bite on Bot-It, their automation software business that lets you build bots without technical knowledge, in Shark Tank episode 1502. Bachelor founded the company in December 2019 and Griffith came aboard in February, 2023. Both men have extensive technology backgrounds and have worked at companies like Tik Tok, CREXi, Flo Technology and, LegalZoom, Amazon and SnapChat. Bachelor founded and sold a business called SnapBatch in 2013.
As for Bot-It, it lets you create bots to complete mundane online tasks. Their most popular bot is for making golf tee times online. In fact, it's the the number one "golf tee time bot" search on Google. It can also do searches for you. The company is in a partnership with Turkey's largest shipping and logistics company.
Getting started wasn't easy. Bachelor started the business from his hospital bed after suffering injuries in a very bad car accident. The company claims it has doubled its subscriptions every month since the business was founded. Subscriptions range from $9.99 a month for 5 bots and customer support to $99 for 10 bots. They also do custom pricing for larger businesses. The guys likely want a Shark's help with scaling.
Company Information
Video

Posts about Bot-It on Shark Tank Blog
Bot It: Your Ultimate Solution for Online Task Automation
Bot-It Shark Tank Recap
Maurice and Joel enter the Shark Tank seeking $150,000 for a 10% stake in their company. He asks the Sharks if they've ever gone online for dinner reservations, a golf tee time or concert tickets and noticed that they're gone in seconds? It's because an online robot or "bot" probably outbooked you. It's estimated that bots control over 50% of online registrations and purchases. How can humans compete? Plus it's annoying to sit at a computer and keep clicking hoping you're the lucky one to buy those concert tickets before they sell out. Say you wwanted to book a reservation at Mr. Wonderful's Fish and Chips. You could use a ready made bot to make the reservation or customize and they'll build one for you.
Barbara wants to know why a bot has an advantage. A bot is an application that does repetitive tasks online. It does it over and over until it gets through. Michael Rubin says his company combats bots because they try to buy out merchandise, how does Bot-It combat it? Maurice says they built their technology to be undetectable. They build their applications to follow standard practices and follow regulations.
How Does it Work?
They run on a subscription model and they have just over $30,000 in sales; they just started 3 months ago. They have over 350 current subscribers. They also offer B2B and they just signed the largest shipping company in Turkey. It costs up to $40 for the standard package and up to $300 for the pro package. They also have upsells. Michael asks if he wanted to buy a Travis Scott release at Nike, how long would it take? The answer is seconds.
Maurice talks about his background. He started the mobile division at LegalZoom. The guys met through a mutual fiend playing golf. Joel is from Trenton, New Jersey and he spent 10 years working on social media advertising for a variety of large companies. There are other B2B bot companies, but no others for consumers. Kevin says using bots is becoming a moral issue. What does it say to people who thinks it's cheating. Maurice says bots aren't always the bad guy. Michael says he'd rather have an individual "get him" with a bot than a big business because he wants to get his products to consumers.
Who's In?
Mark says it will help for things that open at a specific time. Mark thinks there are a lot of ways they could go. He offers $150,000 for 20%. Michael asks if Mark would partner with him and Mark says he wants them all to himself. Michael then offers $150,000 for 15%. MArk asks if they want to work with a guy who understands it or a guy who doesn't. Michael says he wants to learn from them. Michael and Mark snipe at each other and Kevin says it's the battle of the billionaires.
After a break, Maurice says he appreciates the offers but asks if any other Sharks want to make offers. Barbara says she respects them, but she's out. Lori says there are better Sharks than her; she's out. Kevin doesn't agree with bots; he's out. Maurice asks if Mark and Michael would team up. He asks if they'd do $300,000 for 20% and Michael says that's not happening. Mark asks them to make them an offer they can't refuse and Maurice says $500,000 for 25%. Michael says he's about to lose them. Maurice then says he'll accept $300,000 for 30% and he does a deal with Cuban and Rubin.
Bot-It Shark Tank Update
The Shark Tank Blog constantly provides updates and follow-ups about entrepreneurs who have appeared on the Shark Tank TV show. After the show, Bachelor told CNBC "This is the most important day of the Bot-It life. To have both of those Sharks on our team right now is going to take us to the next level."
The Shark Tank Blog will follow-up on Bot-It & Maurice Bachelor and Joel Griffith as more details become available.