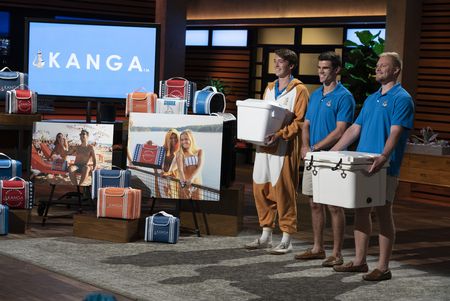 Teddy Giard, Logan Lamance and Austin Maxwell want the Sharks to invest in Kanga, their insulating cold pack for cases of beverages, in Shark Tank episode 1018. The former Clemson students, along with two other partners,  created the Kanga for a class project. They solved a problem they all hated: warm beer. When tailgating, rather than deal with ice and coolers, they'd tote their beer right in the cardboard box. It was easier than dealing with coolers and ice, but the beer got warm quickly.
At a tailgate, they saw people using insulating koozies and thought "why not make a koozie for the whole case of beer?" The result was the Kanga. It fits 12, 24 and 30 packs of beverages. Simply slide a cold box of your favorite beverage into the Kanga and it will stay cold for five hours with no ice. It has a waterproof membrane over the three levels of insulation and a handy top flap for accessing your drinks.
They got the business started with a successful Kickstarter campaign that raised $34,295 back in early 2018. Now they sell their product on their website for $29.95 for the 12 pack size and $34.95 for the 24 or 30 pack size. Kangas come in a variety of colors and patterns; they also offer customized coolers.
The guys likely want a Shark to help them grow awareness and for funding further production. Will a Shark think this is a cool product?
Kanga Company Information
Video

Posts about Kanga on Shark Tank Blog
Kanga Shark Tank Recap
Teddy, Logan and Austin enter seeking $100,000 for 10% of their business. They hand out beer as they tell their story. 30% of their business comes from their website and the rest is wholesale. The Sharks like the product and the margins. They make each unit for $9.60 and sell it for $29.99. The guys recently fulfilled a $16,000 order for Anheuser Busch and if sales go well, the beer giant will order 10,000 units. Mark absolutely LOVES it when they tell him they started the company with $833.
In an emotional pitch, Austin says he's seen every episode of Shark Tank. After watching Mark do a deal with Beatbox Beverages in season 6, he called up co-founder Justin Fenchel and asked for a job. He got it! He goes on to say it's been his dream to appear on the show and he came on wanting to do a deal. Mark's heard enough – he offers $100,000 for 20% – take it or leave it. Austin raises his beer in a salute and accepts for the Kanga crew.
Kanga Shark Tank Update
The Shark Tank Blog constantly provides updates and follow-ups about entrepreneurs who have appeared on the Shark Tank TV show. The deal with Mark Cuban never closed. The guys went on a mini tour of sorts attending Nascar events and surfing events with their coolers. The business is now an LLC, too. In June, 2019, they moved the business out of Logan's mom's basement and into "The Fun Factory," their new corporate HQ complete with a half pipe. With thousands of orders after the show originally aired, the boys are off to a good start.
In December, 2022, all three founders were named to the Forbes 30 under 30 list for the year. They have their products in Ace Hardware stores, over 2000 independent retailers and Amazon. The company has sold over 400,000 coolers and is earning $3.5 million a year in revenue.