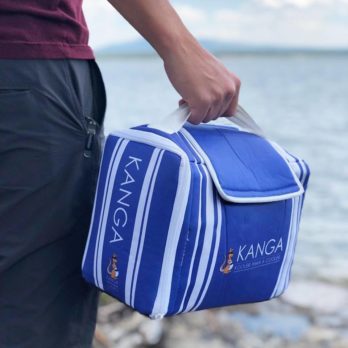 Warm beer might not be the biggest problem the world faces, but it's what inspired Teddy Giard, Logan Lamance and Austin Maxwell to invent the Kanga Kase Mate Cooler. The Clemson students, along with two other partners, didn't like lugging heavy coolers to tailgate parties. They just kept their beer in the cardboard box it comes in and toted them around. It was easier, but the results were warm beer.
As a class project, they invented their solution to bulky coolers and warm beer: the Kanga Kase Mate. They are reluctant to call it a cooler. What it really is is a giant koozee for an entire case of beer. It will keep a case cold for five hours – long enough for a tailgate party. It's a lot lighter and less cumbersome than a traditional cooler, due in large part to not requiring ice. All you do is slip the entire box of beverages into the Kase Mate and you're good to go.
The boys realized they were on to something when people started asking about their invention. To make it available to the general public, they launched a Kickstarter that raised just under $35,000 to fund their first production run. They haven't hit mass retail like Amazon or Wal-Mart yet, but that's their goal. They did their first trade show this past January in Las Vegas to get things going in that direction. At under $40, the Kanga Kase Mate is an attractively priced cooler alternative that's got mass appeal.
They likely want a Shark's help with future production and penetration into retail. Will a Shark Think this business is cool?
My Take on the Kase Mate
I think this is a clever solution and a good alternative to bulky coolers. While coolers still have a purpose, if all you're carrying is beer or soda, the Kanga solution is a lot leaner and lighter. When we go to the beach, we bring a cooler for both food and beverages. I also pour my beverages into a Tervis Tumbler to keep it cold.
My tastes are a bit more refined to the point where I won't JUST bring beer to the beach, but I'd probably want to have one of these in my cooler repertoire for a "just in case" – no pun intended – scenario. I think this will be a big hit with the younger set and I predict Kanga will sell a lot of Kase Mates.
Will Sharks Get On The Kase?
Despite the successful Kickstarter, this is still a very new product. They've come a long way from an idea in August, 2017 to full production and a Shark Tank appearance in just two and a half years. If they have good sales and a reasonable ask, they may have interest.
The problem I see with Kanga getting a deal is there are five partners. A Shark is going to want at least 25% (likely more) of this business which would dilute the five to a 15% share each leaving the Shark as the majority stockholder. That might not sit well with the Kanga guys. While they will get offers, I don't think they'll do a deal.