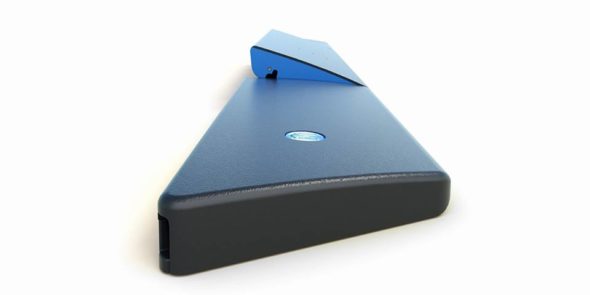 Imagine locking your door with a wedge at the base of the door – that's the idea behind the Haven Lock. Clay Banks and Alex Bertelli want a Shark to get on board with their product that Bertelli envisioned while in Afghanistan as a  Special Ops helicopter pilot. He saw people barricading their doors with wedge like devices and he thought it was a great idea.
Placing a wedge at the base of a door is a more effective locking mechanism than a dead bolt. Bertelli and Banks took that concept to the next level when designing the Haven Lock. Instead of a wooden wedge, the Haven Lock is made of military grade steel, nylon and polycarbonate. It's activated with either a key fob or an app. It turns a regular door into a nearly impenetrable barrier.
It took a lot of effort to get the product to market. The company failed at Kickstarting the product back in 2014, but they carried on with military-like persistence. Now, they have a snazzy Amazon store and they're growing a network of installers and distributors. For now, they're targeting Property Managers, Developers, Security Companies and Locksmiths, but they likely want big box retail distribution too.
Haven Lock is made in the USA in Tennessee and employs many veterans and Bertelli wants to keep it that way. They likely want a Shark to help broaden their market and for cash to market the product. Will a Shark lock up a deal for Haven?
My Take on the Haven Lock
There's a lot to like about this product. Any business that manufactures in the USA and employs veterans automatically earns my respect. The product itself is ingenious. I've used wedges in my doors when I was in college and lived in somewhat unsavory parts of town. That only protected me when I was home, I couldn't unlock a wedge from the outside.
With personal and home security so important to so many people, I can see this product becoming very successful. It won't happen overnight though. This type of product requires a lot of outreach and consumer education. That takes time. I believe Banks and Bertelli are up to the task and will make their business a success.
Will Sharks Lock in and Invest?
Sales will have a lot to do with whether or not the Sharks have interest. If Bertelli and Banks have good numbers, they could snag a Shark. If they don't, they can forget it. Even if they do, the biggest objection they'll face id the one I just mentioned: it's going to take a lot of outreach and education. The Sharks frequently "don't want to go on that journey."
Both Mark and Kevin invested in lock companies in the past, so that may preclude them from offering. That leaves Barbara, Lori and Daymond. Lori is good at getting things into the Home Depots of the world, but at over $300, it's not a price-point she usually gets involved with. Daymond may have interest, but Barbara would make a good partner. She has lots of connections with property managers – a market Haven is actively pursuing. If she bids, they should accept. She'd be the perfect Shark for the Haven Lock.