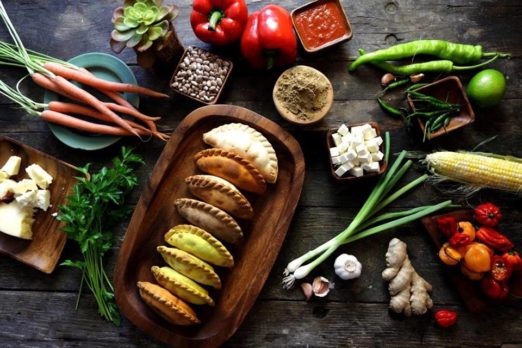 Ariel Barbouth came to New York City ten years ago with $9000 and a dream: to disrupt the fast food industry with his native Argentinian empanadas. Empanadas are pastry – baked or fried – with any number of fillings. They can be filled with meat, vegetables, even sweet dessert fare. The result is a hand-held meal that's long on taste and short on the pocketbook. Barbouth started Nuchas in 2011 and started selling his dream to the street food loving New York public in a small Times Square kiosk.
He quickly grew his business to include two food trucks, three brick and mortar locations and several pushcarts. He calls his empanadas "hand-made gourmet meals from everywhere on earth." While they may have their origins in Argentina, there's no limits on what you can put in an empanada. Nuchas makes all their food by hand with fresh, sustainably sourced ingredients and strives for perfection in every serving.
With items like the Argentine – a beef, pepper, potato and green olive stuffed empanada or the slow braised short rib empanada, it's clear Nuchas wants to bridge the cultural divide with their food. They also offer Italian sausage, ham and cheese, jambalaya and chipotle empanadas. There are vegetarian, vegan and dessert options too. At about six bucks a meal, it's inexpensive AND delicious.
Barbouth wants to expand his retail restaurant operations beyond New York City and offer Nuchas products in grocery stores. He's hoping a Shark will help him get to the next level.
My Take on Nuchas Empanadas
I've never tried Nuchas, but I have had many empanadas. There's a stand at our local farmer's market that sells them; the same group also sets up at many local events. I ALWAYS get one when I see them. They stuff them with meat – much like Nuchas' "Argentinian." It's funny, I always tell them "you guys should go on Shark Tank with these!"
If Nuchas is as good as their reviews (New Yorkers are gobbling them down), then I think they'll do well. Whether they snag a Shark or not, it looks like they'll be successful. If I ever see them in my local Publix, I'll be sure to pick some up. I'm in.
Do Sharks eat Empanadas?
Nuchas joins OatMeals and Beyond Sushi as season ten New York niche food shops that appear in the Tank. The producers must be scouting New York City eateries for "Tank worthy" fare. OatMeals got $500,000 from Lori for 33.3% of the business. Beyond Sushi did a deal with "guest Shark" Matt Higgins and Lori for $1.5 million for 30% of the West Coast business and 15% of the East Coast. It appears Sharks like good food concepts.
This should work out well for Nuchas. I think their products have far more mass appeal than the other two aforementioned places. The Sharks ought to think the same thing. I expect several offers and I wouldn't be surprised if Lori adds to her restaurant empire. She'd also be a big help getting into grocery stores. Let's not forget Barbara; she has several solid restaurants in her portfolio and she'll make a play too if the deal is right.