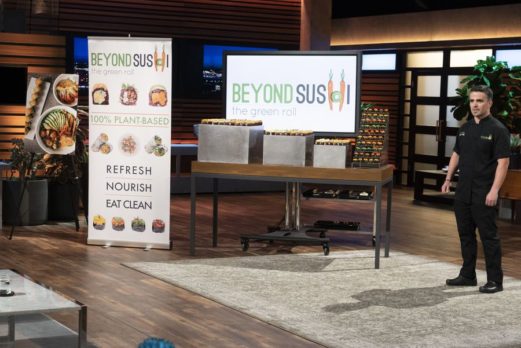 Guy Vaknin hopes the Sharks like Beyond Sushi, his New York City based, vegan sushi restaurant chain, in Shark Tank episode 1002. Vaknin recently opened his sixth location in New York City back in April. He started serving vegan sushi at the NYC Vegetarian Food Festival before opening his first brick and mortar restaurant in July 2012. Of his six current restaurants, only one is full service; the rest are more fast food/take out places.
Vaknin says about 40% of his clientele is NOT vegan, they just want  healthy, plant-based cuisine. He credits his love of cooking to his Moroccan grandma who taught him cooking with herbs and intense spices. A veteran of the Israeli Defense Force, Vadkin emigrated to the USA. After a brief stint studying computer engineering, he realized food was his calling. He graduated the Institute of Culinary Education in 2007 and was a contestant on Hell's Kitchen in 2010. He and his wife, Tali, married in 2013 and have one son.
Chef Vadkin uses fruits, vegetables and whole grains to make standards like sushi, dumplings, rice paper wraps, salads and noodle soups. Beyond Sushi has grown from a festival concept to six locations in New York City in just 6 years. Now, Vadkin wants to expand beyond the city and he wants a Shark's help.
Are Sharks vegan?
Beyond Sushi Company Information
Video

Posts about Beyond Sushi on Shark Tank Blog
Beyond Sushi Shark Tank Recap
Guy enters the Shark Tank seeking $1.5 million for 25% of his west coast business and 5% of his east coast business. He gives his pitch and explains his menu. He hands out three of his best seller rolls. Lori says it looks amazing. The Sharks all like the food. 8 pieces – a full roll – has 280 calories and sells for $7.50 and they cost $1.50 to make. He has six locations currently all over Manhattan. His large location does $2.5 million per year. He has one big commissary kitchen that supplies all six locations.
In 2015, he partnered with the owner of Ruby Tuesdays – Matt knows him – and that gentleman owns 25% of the east coast business. Last year (2017), he did a total of $4 million in sales but lost $272,000 due tio opening two large locations and building his commissary kitchen. In 2016 he did $2.4 million and netted $600,000. This year, he's projecting $5.6 million. Guy and Matt get into a discussion about restaurants using restaurant jargon.
Daymond says he doesn't understand the jargon and for that reason, he's out. Kevin thinks the valuation is insane; he's out. Mark says his gut is telling him no; he's out. Matt and Lori decide to team up, but they want more of the east coast business to offset the risks of the as yet unproven west coast business. They offer $1.5 million for 30% of the west coast business and 15% of the east coast business. He agrees.
Beyond Sushi Shark Tank Update
The Shark Tank Blog constantly provides updates and follow-ups about entrepreneurs who have appeared on the Shark Tank TV show. The deal with Matt and Lori never closed. Guy declined the offer in the due diligence phase. He never opened any west coast restaurants. At its peak, the company had 7 locations. Guy, like many restaurateurs in New York, had challenges during the 2020 Covid-19 pandemic. He tried negotiating rents with his landlords and he did so successfully. Even so, he is down to four locations.
As of June, 2021, he's back open and hoping things get back to pre-pandemic levels. By May, 2022, he was back in the groove with his four Beyond Sushi locations, a catering business and two new restaurants: Coletta, a vegan Italian restaurant and Willow, a kosher vegan restaurant. As of December, 2022, annual revenue for his businesses are $23 million.