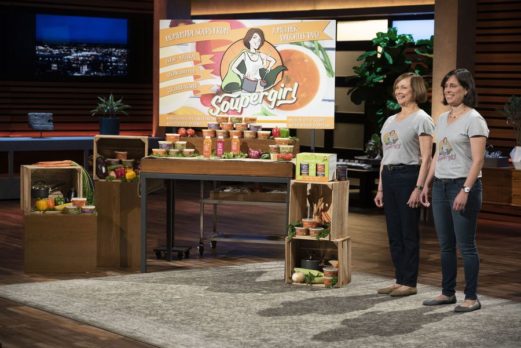 Marilyn and Sara Polon want to cook up a deal for Soupergirl, their fresh soup company, in Shark Tank episode 1002. The mother/daughter team started their business back in 2008. They currently have two brick and mortar retail locations, a home delivery service and retail distribution. Soupergirl is in more than 50 Whole Foods and other natural-goods stores on the east coast and 20 Costco stores from Massachusetts to D.C.
Sara, a former standup comic, started eating vegan a number of years ago. That's what inspired her to start Soupergirl. All the soups are vegan. Flavors like black bean sweet potato chili, split pea rosemary soup, zucchini chickpea bisque, tomato gazpacho and more will appeal to almost any palate.
Sara and her mom, along with 30 plus employees, cook "thousands of gallons" of soup each week. They cook them up in small batches – about forty gallons at a time. They sell their soups in individual containers at their retail locations and as part of their Soupergirl meal programs. A program contains either 12 or 20 soups. You can pick your own or let them do it for you. Programs can be one time delivery or set up as a regular monthly option.
Prices range from $6.70 to $8.25 per meal, depending on the amount of soup ordered and the frequency of delivery. While profits are important to Sara and her mom, Sara is trying to "change your palate." They "source responsibly" for all their ingredients. Sara want s to grow the business to have Soupergirl in every state. She's hoping a Shark will like her soup.
Soupergirl Company Information
Video

Posts about Soupergirl on Shark Tank Blog
Soupergirl Shark Tank Recap
Marilyn and Sara enter the Tank seeking $500,000 for 10% of their business. They tell the story of how they started and give their pitch. After that, they feed the Sharks some soup. Sales in 2016 were $1.4 million and in 2017 they were $2.4 million. This year (2018), they project $3.8 million. Margins are low though – only 5%. This is largely due to them not using co-packers and making the soup themselves. Sara is committed to that due to the kosher aspect of the soups.
Mark thinks she'll keep needing more money; he's out. Kevin thinks the business is worth $750,000 now, less the debt which is "a hundred and change;" he's out. Daymond says she'd need to do $100,000 to get his money back; he's out. Matt says the other Sharks are being too dire, but he still goes out. Lori thinks the company logo and name are great, but the margins are no good, she's out.
Soupergirl Shark Tank Update
The Shark Tank Blog constantly provides updates and follow-ups about entrepreneurs who have appeared on the Shark Tank TV show. Just a few weeks after they taped their segment in June, 2018, Matt Higgins called them and offered to be an adviser. Higgins told The Washington Business Journal, "I have my own criteria for what I will invest in and what I won't invest in, but just because something is not personally investable to me does not mean it's also not a tremendous product that has phenomenal potential."
In 2019, revenue was nearly $6.5 million. Thanks to the Covid-19 pandemic, 2020 sales flattened and she closed her Washington DC brick and mortar stores. In September, 2020, she did a $2 million funding round with Chevy Chase, Maryland-based Arborview Capital, Honest Tea founder Seth Goldman and Glen's Garden Market founder Danielle Vogel. She want to expand her production kitchen so she can triple her direct to consumer business in the first quarter of 2021 and expand her grocery store presence.
As of June, 2021, Soupergirl is in Whole Foods Markets in the greater DC, Philadelphia, Pittsburgh and Richmond areas as well as several smaller chains like Dawson's and Yes Markets.
In August, 2021, Sara was one of five winners of Kroger's first "Go Fresh & Local Supplier Accelerator," a competition that attracted over 1000 entrants. Winning the Shark Tank style competition means she'll have her Soups in Harris Teeter stores and in Kroger's in the first quarter of 2022. In March, 2022, Kroger and Harris Teeter began rolling the soups out in their stores. They also redesigned their website and can now ship soup to anywhere in the eastern US. As of December, 2022, annual revenue is $9 Million.