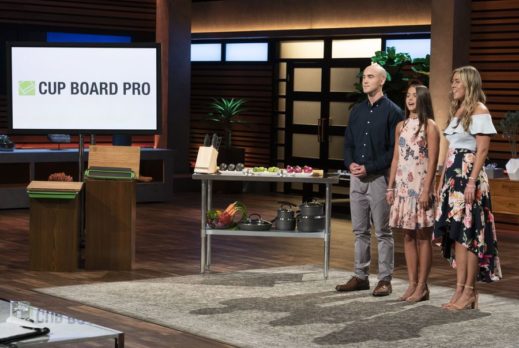 Siblings Christian, Keira and Kaley Young pitch Cup Board Pro, a cutting board with a built in catching cup, in Shark Tank episode 1002. The Cup Board Pro is a bamboo cutting board that has a receptacle that runs the length of the cutting board. This receptacle, or "cup," catches everything on the cutting board. It detaches for easy cleaning and it makes chopping stuff up a tad less messy.
The Young children enter the Tank with heavy hearts. The Cup Board Pro is their dad, Keith's, invention. He's a former New York City Fireman who's authored cookbooks and was a two-time Food Network Chopped Champion. Sadly, he passed away from 9/11 related cancer in March of 2018. It was his dream to pitch this product on Shark Tank. The Young kids lost their mother to cancer in August 2012 too.
Keith's dream was to pitch the product on Shark Tank, so his kids are fulfilling it for him. They have an online store and they sell Cup Board Pro on Amazon. It will set you back about forty bucks. The Youngs hope to get a Shark on board with their dad's dream, the question is will they make the cut?
Cup Board Pro Company Information
Video

Posts about Cup Board Pro on Shark Tank Blog
Cup Board Pro Shark Tank Recap
Christian, Keira and Kaley Enter the Tank seeking $100,000 for ten percent of the company. They showed a video of their father, Keith, demonstrating the product. The Sharks were impressed with the product. Once the demo was over, they explained their recent past including the death of their mother and their father's devotion to her. By the time they got around to discussing Keith's death due to 9/11 first responder related cancer, there wasn't a dry eye in the Tank.
The pitch hit the Sharks pretty hard, particularly guest Shark Matt Higgins. He was press secretary for New York City mayor Rudolph Giuliani on September 11, 2001 and was at Ground Zero within minutes of the planes hitting the World Trade Center buildings. Daymond was visibly upset on air and tweeted this during the show:
Out of my entire decade of being on #SharkTank this was the most emotional pitch I have ever been through. It took everything in me not to walk off the set because my emotions ran so crazy because I was there and lost many friends from 9/11.
Once the Sharks regained their composure, Mark asked the Youngs to step out into the Hall. After some chatter, they called them back in. All five Sharks teamed up to invest $20,000 each for 20% of the company. In addition, all profits the sharks earn will go to charities helping first responders who became sick after 9/11. The Youngs accept!
Cup Board Pro Shark Tank Update
The Shark Tank Blog constantly provides updates and follow-ups about entrepreneurs who have appeared on the Shark Tank TV show. This show resonated with the public. The roughly 1700 units in stock sold out in minutes. Over $2 million in back orders were taken within days of airing. It looks like the Sharks and the Youngs have their work cut out for them!
As of January, 2019, they were negotiating with manufacturers. Their website indicates they're taking "pre-orders" as of April 2019. In May, 2019, the Youngs get an update segment in episode 1021. In the segment, the Sharks present a fire fighter charity with a check – their portion of the profits. Part of their success is due to a licensing deal with Williams-Sonoma that was brokered by Daymond. In addition to selling the cutting boards in its 600+ stores, Williams-Sonoma handles manufacturing and distribution. They also sell on Epicurean's website.
In February, 2020, the company appeared in The Shark Tank Greatest of All Time Special in the "Greatest Businesses with a Social Cause" segment.
As of July, 2022, they are still in business and doing $3 million in annual revenue. The business gets a second update segment in episode 1414. In the update, the kids say the product has done over $7 million in sales. They reveal the licensing deal has allowed each of them to pursue their own dreams. They bought a four bedroom home for them all to live in. Christian is working as a veteranarian assistant. Keira is studying business at her "dream college." Kaley started an interior design business and was recently married. They recently presented the FDNY Foundation with a $10,000 check too and Matt and Lori matched it. This brings the total amount donated to $100,000. The three kids reflected on their parents in the update and say the CupBoard Pro has kept their parents' memory alive all over the world.