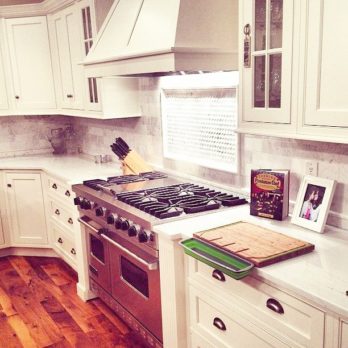 Christian, Keira and Kaley Young bring their dad's invention, The Cupboard Pro, to Shark Tank episode 1002 in what will be a tear-jerker of a pitch. The product is pretty straightforward: it's a cutting board with an attached receptacle or cup to stash the cut items in. Firehouse Chef and inventor Keith Young created the product after writing a cookbook and appearing on the TV show Chopped.
The tear-jerker part is what these three siblings went through to get to the Shark Tank. In 2012, Keith put his invention on hold when his beloved wife got stage 4 inflammatory breast cancer. She lost her battle in August of that year. Understandably, the family was fraught with grief. After a while, the kids encouraged Keith to chase his dreams of bringing his invention to life.
After winning on Chopped, Keith got the Cupboard Pro made at a Chinese factory. He was starting to get his products packaged and shipped by AHRC, a company that employs Down syndrome adults. That's when tragedy struck again. In December, 2015 Keith was diagnosed with synovial soft sarcoma – a 9/11 related cancer. Keith became too sick to work on his business anymore and put the business in Kaley's name. On  March 17, 2018, Keith passed away at age 53, leaving his three children and his invention. Now, to keep their dad's memory alive, they want a Shark as a partner.
My Take on Cupboard Pro
I must confess, I'm tearing up a bit just writing this. Those poor kids! I do all the cooking in our house and I want one of these just to show my support for the children of this American hero. I am in.
Will Sharks Pitch In?
If this product doesn't get an offer, I'll be shocked. I think the story is so inspiring and these kids are so brave, at least one Shark will make an offer, maybe all five! I predict they leave with a deal, the only question is with which Shark(s)?