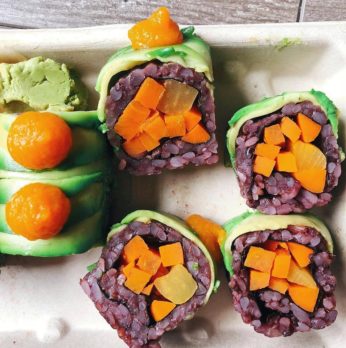 When chef Guy Vaknin founded the first Beyond Sushi vegan sushi restaurant in 2012, he didn't know he'd be fare for the carnivorous Sharks six years later. Vaknin is the first vegan restaurant to appear in the Tank and he hopes he'll "give the vegan food movement a national spotlight." Chef Vaknin pitches his vegan sushi restaurant concept in Shark Tank episode 1002.
The Israeli immigrant originally came to the USA to study computer engineering, but he was drawn to the family catering business and decided to become a chef instead. He draws a lot of influence from his Moroccan born grandmother who taught him to cook. Vaknin is no stranger to reality television. He was a contestant in season ten of Hell's Kitchen, Gordon Ramsay's chef competition show. Guy was recruited by the show in season eight, but he didn't make the cut. They called him back for season ten and he made it through seven episodes before being put up for elimination by his "Blue" team mates for "inconsistent performance."
Shortly after his appearance on Hell's Kitchen, he opened the first Beyond Sushi. The first location was more like a fast casual/takeout counter. It was a quick place to grab vegan sushi – a new concept – in Manhattan's trendy Union Station neighborhood. The vegan sushi, made from grains, nuts, vegetables and fruit paired with tangy sauces, quickly became a hit. Before long, there were six locations, including one full service restaurant. All locations are in New York City.
Since he's hoping Shark Tank will shine a national spotlight on him, he's hoping a Shark can help him take his unique restaurant concept nationwide. He'd love to follow in the footsteps of Tom and Chee and Cinnaholic (also vegan) who've opened many restaurant locations since partnering with a Shark. Real sharks like fish to eat, but will one of THE Sharks want to take a bite out of this business?
My Take on Vegan Sushi
I am an unapologetic carnivore. I like beef, bacon and fish in my sushi or sashimi. That's not to say I don't eat vegan food on occasion. My oldest daughter is a vegetarian and prepares many vegan dishes. A partner of mine in another endeavor is vegan. Whenever we have a dinner meeting, we have to have it at her house so her boyfriend can cook a vegan meal. Every meal we've had over there was delicious; she wouldn't eat what I'd serve! She told me she's been ordering vegan sushi rolls at regular sushi places for ten years, so it's not an entirely new concept.
Some of the vegan sushi on the Beyond Sushi menu looks and sounds delicious. I have no aversion to vegan dishes per se, I just want my steak too. Vaknin surveyed his customers and found only 40% were actual vegans, so the food must have some appeal to my fellow carnivores. In the restaurant business, it's all about sales and it appears Beyond Sushi is doing well. I am in.
Are Sharks Vegan?
Other vegan products have appeared on Shark Tank. Lori invested in Heidi Ho vegan cheese back in season six. That company is doing very well. So is Cinnaholic, but they never did a deal. Will the Sharks bite on Beyond Sushi?
I don't think the objections will come from the quality of the food. Opening six locations in six years is a testimony to the food's quality – especially in New York City. This deal is going to come down to the ask. If the equity position is right, there will be interested Sharks.
Other restaurant concepts were successful in the Tank in the past. Mark and Barbara invested in Tom and Chee which is a huge success. Mr. Wonderful made a deal on air with How Do You Roll custom sushi restaurants back in season four, but the deal died during due diligence. That chain has over 100 locations now, compared to the dozen or so they had before their appearance. Clearly an appearance on Shark Tank can boost a restaurant's success. Whether or not a Shark invests is the real question.