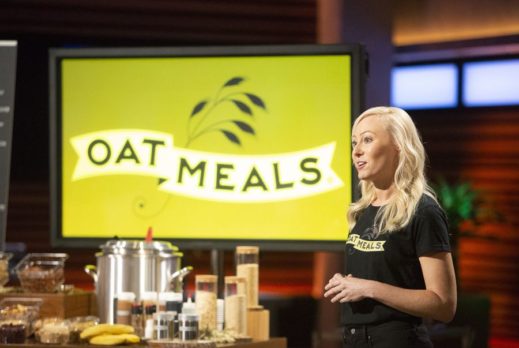 Samantha Stephens hopes the Sharks feast on Oatmeals, her New York City restaurant concept, in Shark Tank episode 1012 – the 2018 Shark Tank Holiday Special. Stephens went into the finance world after graduating college in 2004, but she always dreamed of opening an oatmeal shop. Like a lot of college freshmen, Sam put on the "freshman 15." She claims it was more like thirty!
It was in those college days she discovered oatmeal. It was cheap, filling, nutritious and you can mix almost anything with it. By 2008, she knew she wanted to open an oatmeal restaurant in New York City, so she started taking night classes in entrepreneurship and pastry arts. In 2012, she left her successful finance career and opened up OatMeals in the west village in New York City.
After two years, she was running one of the hottest eateries in the city! Some of her creations include "the Elvis," topped with peanut butter, banana, bacon, honey and sea salt. There are dozens of her own creations, or you can build your own oatmeal bowl with the many toppings provided. She was so successful, Quaker Oats made her their "Creative Oatmeal Officer." Her duties include educating consumers on the many creative ways to serve oatmeal. While there is currently only one OatMeals restaurant, Stephens wants to take her concept national. Maybe a Shark will give her a bowl full of cash to help her out.
OatMeals Company Information
Video

Posts about OatMeals on Shark Tank Blog
Oat Meals – Oatmeal Restaurant
OatMeals Shark Tank Recap
Samantha enters the Shark Tank seeking $500,000 for 20% of her business. She tells her story, gives her pitch and hands out samples. The Sharks LOVE the food. After 6 years in business, she's done $2.5 million in sales with $500,000 projected for this year(2018). Her store is only 380 square feet to boot!
Kevin doesn't think she's making enough money; he's out. Daymond thinks it'll take 12 years to get his money back; he's out. Lori asks if Sam would consider packaging her products for sale in grocery stores. Sam says yes and Lori offers $500,000 for 33.3%. Barbara wants to make Oatmeals a food cart business and offers $500,000 for 50% of this new business idea. Ultimately, Sam goes with Lori.
OatMeals Shark Tank Update
The Shark Tank Blog constantly provides updates and follow-ups about entrepreneurs who have appeared on the Shark Tank TV show. The deal with Lori never closed. She wanted to franchise the business and build out more stores, but she never got the chance. Unfortunately, this business fell victim to the Covid-19 pandemic. They closed their doors on January 24, 2021. Samantha continues to post oatmeal recipe ideas on the Oatmeals Facebook page and continues to sell her granola online. A deep dive into the Facebook comments found this quote from Samantha: "It's very sad but maybe OatMeals will have another chapter down the road."