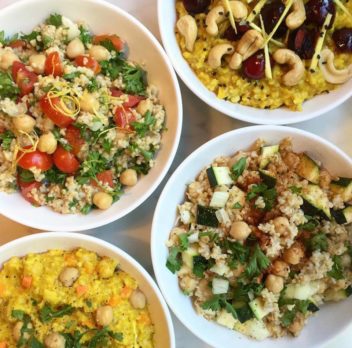 Before opening Oat Meals, Samantha Stephens was a successful investment banker. She first fell in love with oatmeal while getting her education in finance. Like a lot of freshmen in college, she put on the "freshman fifteen," though she claims it was closer to thirty pounds. This made her turn to oatmeal, the perfect college food for people struggling with their weight. It's cheap, nutritious, and as Stephens explains, it's the perfect canvas for a variety of meals.
Fast forward to Stephens as a post-graduate investment banker. She was working in New York City and embarking on what most would consider a successful career path. She still made oatmeal at home, but this wasn't grandma's oatmeal. She makes her oatmeal with a variety of nuts, meats, spices, cheese, fruits and more. While living and working in the city, she noticed a lot of single concept restaurants opening up – like a mac and cheese only place or a cupcake only place.
Her creative juices started flowing and she started to take classes in pastry arts and entrepreneurship. Coupled with her financial background, it was a good skill set. In 2012 she gave up the investment banking life and opened up Oat Meals, "the world's first all oatmeal cafe." Customers can build their own bowl with a variety of toppings or get one of the dozens of standard menu items like Sundried Tomato, Pesto & Parmesan oatmeal.
Oat Meals was a hit with New Yorkers and it got Stephens noticed by Quaker Oats – THE oatmeal people. They liked what the saw at Oat Meals and asked her to be their "Creative Oatmeal Officer." She makes videos and shares recipes on the Quaker Oats website and social media platforms. This also helps drive traffic to the oat Meals restaurant.
Now, Stephens is bringing Oat Meals to the Shark Tank for the 2018 Holiday Special. She wants to take the concept nationwide and wants a Shark's help. Will any Sharks bite?
My Take on Oat Meals
I still eat oatmeal from time to time. When I lived in Massachusetts, it was a wintertime breakfast staple in our house. I am not as creative as Ms. Stephens; the most I ever put in my oatmeal was the occasional blueberry, brown sugar or maple syrup. Her creations are far more savory sounding. The Canadian has cinnamon roasted apples, sharp cheddar cheese, bacon, maple syrup and sea salt in it. Sounds delicious!
This is a place I'd love to check out the next time I'm in New york. It's not too pricey – everything is under ten bucks, so it won't break the bank. I can see why Oat Meals is successful, they have a wide variety, good pricing and pretty much everyone likes oatmeal. They just haven't had it like this before.
Do Sharks Eat Oat Meals?
I'm sure the Sharks will like the samples she hands out. I'm getting hungry looking at all the menu items on the Oat Meals website. This seems like an easily duplicated restaurant concept. The meals are elegant but simple and it probably doesn't require a lot of fancy equipment a standard restaurant does. It is a concept that could grow quickly.
Sharks invested in restaurants in the past with the biggest success story being Tom and Chee. Others did well too and I think Oat Meals can fit into this unique niche as a leader. The question is which Shark(s) will make a play. Barbara and Mark partnered on Tom and Chee and did quite well, so maybe they'll team up again. I don't think Lori is one for the restaurant space, but if Oat Meals wants to go retail like Bantam Bagels, she could be a good partner.
While I'm not sure if this gets a deal, I do think there is a good possibility. The Sharks like people with a money background because they speak the same language. If the valuation is good and they like Samantha, she could get a deal.