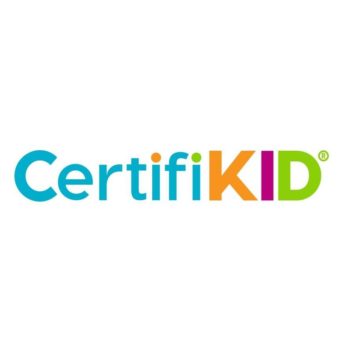 Jamie Ratner was a mommy blogger looking for family friendly bargains when she came up with the idea for Certifikids. She liked using Groupon for deals on things in her community, but there weren't many kids' activities on her local Groupon. This led her to start a "copycat" daily deal site that catered strictly to families with children. Instead of deals on nail salons and hair dressers, Certifikids has deals on summer camps and children's museums. She and her husband Brian pitch the business to the Sharks in episode 1018.
If you're familiar with Groupon, Certifikids works the same way. Simply go to the website and find deals that interest you. Parents can save up to 40% on summer camps and up to 50% (and more) on things like amusement parks, family friendly getaways, and kids' products. There's even a special needs deal section.
Brian and Jamie grew the business after starting up in 2010 with just $5000. Initially, they offered deals in the Washington DC area, but today they are in 11 metropolitan areas. Brian doesn't think they need a Shark to continue to grow, but he knows a Shark will help them grow much faster. Will a Shark want in on the daily deals business?
My Take on Certifikids
I used to use Groupon as an advertiser and as a consumer. I offered deals for hot dogs when I owned my hot dog truck. It was a good way to attract new customers to my business. As a consumer, I liked using it for a variety of deals. I purchased restaurant vouchers, massages, and glass blowing classes for my kids to name a few. I haven't used it much lately, but my wife still does every once in a while.
I looked up some deals for our family on Certifikids, but most of the South Florida deals are too far from my home. There were a few that interested me, but only if they were closer. I will monitor the site because we are always looking for things to do as a family and I love saving money!
Will Sharks Like the Deal?
Certainly the business is doing well and the Sharks will recognize that. The Ratners don't have a ton invested or a lot of debt either which will also enamour them to the Sharks. What could hurt them is the industry itself. Groupon, the grand daddy of all local deal sites was valued at $13 billion when it went public. This was a year after it famously declined a $6 billion buyout from Google.
Now, Groupon is only worth about $2.4 billion and its stock is down 75% from its IPO price of $20 per share. Groupon also acquired another big local deals site, LivingSocial, in 2016 for basically nothing, then they laid off all the LivingSocial staff.
One reason some experts tout the decline of local deals sites is the growth of local Facebook marketing. Small businesses find it easier to target and advertise to local people on Facebook than give up profits to consumers to get them in the door. Groupon charges 50% of the fee to buy a deal. If you offer 50% off on something that costs $100, you only earn $25. You need 400% margins to break even on a deal like that. For the same $25, you can target roughly 3000 local people on Facebook for advertising. Assuming a 2% click-through, that nets you 60 prospects. Even if you only sell one $100 item from that campaign, you're better off than using Groupon.
While Certifikids is NOT Groupon, it uses the same model. This might scare off a Shark or two, but if the business has good numbers and it's a good valuation, I expect at least one offer – probably from Mr. Wonderful for a ridiculous percentage.